Lucky Americans can already cruise down freeways belting out tunes via Belkin's new TuneCast Auto Live FM transmitter, but for us Brits, we'll have to be twiddling our iThumbs until March, 2010.
The device is designed to let car drivers listen to songs stored on their iPhone through their car stereo.
The iPhone ClearScan LIVE App automatically finds the best FM frequency and then makes the FM transmission and music directly controllable on the iPhone, so users don't have to fiddle about with a different set of buttons. FM stations can  also be switched on the phone's display.
It's ready for your cash if you're buying in dollars,  ($79.99 in North America), while Europe and Asia /Australia can expect to see the device in March and April, respectively.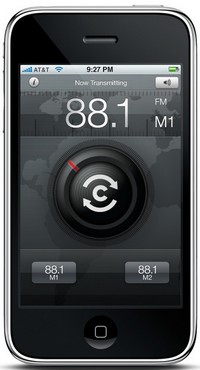 Belkin Tune Cast features:
ClearScan LIVE Application available for free download at the iTunes store
ClearScan technology scans for the clearest frequency and best audio quality at the push of a button
Control FM transmission and music from your iPhone screen
Also compatible with iPod touch, nano, and classic
High-contrast LCD display for easy viewing
Two programmable preset buttons
Charges through car's 12-volt lighter outlet
1-Year Limited Warranty
Press blurb:

Now you can listen to your iPhone music through your car stereo and quickly find the best FM station with the help of your iPhone's GPS system and location-based user feedback. TuneCast Auto Live combines ClearScan Technology with Belkin's ClearScan Live iPhone app to provide the best FM station recommendations wherever you drive.
The Only FM Transmitter with GPS-Assisted Station Locator
TuneCast Auto Live is the only FM transmitter with GPS-assisted scanning, for the best audio quality for your drive. The ClearScan Live app is available free through iTunes—just download and launch the app from your iPhone. You'll get the best FM scanning technology at the push of a button, and station recommendations from other TuneCast Auto Live users in your area based on your GPS coordinates. You can also contribute to the quality of ClearScan Live's recommendations by rating how well stations work where you are.
Control at Your Fingertips
Control your FM transmission and music seamlessly from your iPhone screen—no need to fumble with separate FM buttons. ClearScan Live lets you display the current FM frequency and control the transmitter directly from your device.
Don't worry if you don't have an iPhone—TuneCast Auto Live also works with iPod Touch, Nano and Classic. ClearScan Technology lets iPod users scan for the best FM frequency without an app. TuneCast Auto Live's high-contrast backlit display lets you see the station clearly, and the tactile buttons make it easy to control.
TuneCast Auto Live also has two programmable preset buttons and a PRO setting for optimizing audio and boosting volume.
Arrive Fully Charged
The dock connector charges through your car's 12-volt lighter outlet to keep your device fully charged while playing.
[Belkin]