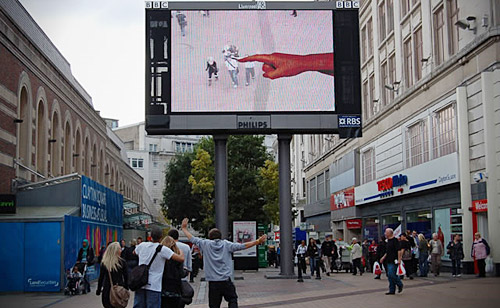 A digital interactive billboard installation has been hard at work tickling, teasing, prodding, shrinking and vanishing passing Scousers in the centre of Liverpool.
The installation by artist Chris O'Shea, is titled "Hand from Above," is designed to "encourage us to question our normal routine when we often find ourselves rushing from one destination to another," and it's proved a big hit in the 'Pool.
The billboard displays a live camera feed with a giant, Monty Python-style finger overlaid in real time. The hand responds to passing pedestrians, who can be seen on the screen being picked up, miniaturised, thrown about or even made to disappear.
The installation was commission for BBC Big Screen Liverpool and Foundation for Art & Creative Technology and judging by the crowd reactions, it's doing a grand job of cheering Liverpudlians up – although some look like they may be waiting for Cilla to burst out from behind the screen squawking, "Surprise, Surprise!"