Research In Motion have just announced two shiny new BlackBerry smartphones; the BlackBerry Bold 9650 and the BlackBerry Pearl 3G.
Anyone looking for an exciting and challenging 'reimagining' of the Blackberry brand will be in for a bitter disappointment, with both models being nowt more than updates to existing models.
BlackBerry Bold 9650
RIM's public relations team haven't exactly been overflowing with the specs, but according to The Street, the Bold 9650 is another candy bar smartphone that looks like a load of their previous ones.
There's a distinctly average 3.2-megapixel camera onboard, a (2.44″) high-resolution display (480 x 360 resolution at 245 ppi), GPS and Wi-Fi (802.11b/g) , and ships with a 2GB microSD card.
The Bold will be available in quad-band GSM/GPRS/EDGE/UMTS or dual-band CDMA/EV-DO (Rev A) flavours.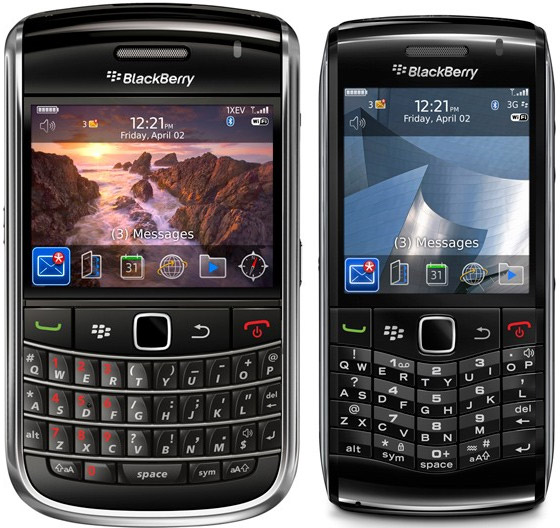 BlackBerry Pearl 3G
The BlackBerry Pearl 3G is a GSM job (most likely tri-band/3G UMTS) and also packs a "large, high-resolution screen," a 3.2-megapixel camera and GPS with upgraded Wi-Fi (802.11b/g/n).
We're trying hard to get excited about this pair, but there's not an awful lot to go on.
Both have RIM's new Track Pad instead in place instead of the fiddly trackball design, and both should be able to handle voice and data at the same time like a grown up phone.
The two handsets can downloaded apps from the BlackBerry store and come with all the usual BlackBerry-ness that get business folks so hot under their flapping suits.
Update: Blackberry Pearl specs
4.25″ x 1.96″ x 0.52″ (108mm x 50 mm x 13.3 mm) and weighing only 3.3 oz (93 grams)
624 Mhz processor with 256 MB Flash memory
360×400 sharp-resolution display (238 ppi)
Optical trackpad that makes navigation fast and smooth, plus a comfortable keyboard that enables quick and accurate typing
Media player for videos, pictures and music (music plays up to 30 hours), plus dedicated media keys integrated along top of the handset
3.2 MP camera with zoom, autofocus, flash and video recording
Built-in GPS for location-based applications such as BlackBerry Maps, as well as photo geotagging
Wi-Fi (802.11 b/g/n) – first BlackBerry smartphone to support 'n'
microSD/SDHD memory card slot that supports up to 32 GB cards
BlackBerry OS 5
Support for tri-band UMTS/HSDPA and quad-band EDGE/GPRS/GSM networks
Removable, rechargeable 1150 mAhr battery that provides approximately 5.5 hours of talk time on 3G networks
[Via]