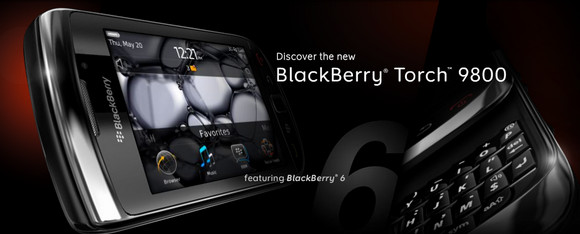 RIM have officially announced their latest smartphone, the BlackBerry Torch 9800, and smothered on the love describing it as their "best BlackBerry ever."

It's a BlackPreBerry!
Looking so much like a Palm Pre that some may suspect it was conceived behind the bike sheds, the Torch offers a full, slide-out QWERTY slider, powered by a rather sluggish sounding 624 MHz processor.
Running the new BlackBerry 6 OS, the handset offers a 5MP camera with autofocus, digital zoom, face recognition and flash with 512 MB Flash and 4GB onboard memory expandable to 32GB via microSD cards.
There's a 1300 mAHr removable/rechargeable lithium-ion cell onboard, which RIM say will serve up 5.5hrs of GSM talktime and 18 hours of standby (5.8hrs and 14 days on UMTS, respectively), or 30 hours of music playback, or 6 hours of video playback.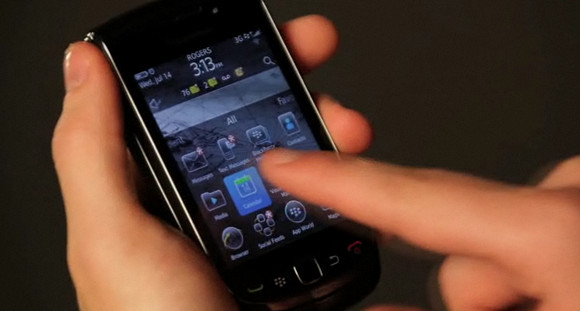 Disappointing screen
The 3.2″capacitive touch screen supports an underwhelming 480 x 360 pixel resolution, putting it miles behind the Droid X's 4.3″ 854 x 480 pixel display and the iPhone 4's 3.5″ 960 x 640 pixel screen – and the Torch can only record QVGA video.
The new BlackBerry 6 OS brings some useful – if familiar – new features like Universal Search, access to an app store and a Universal Inbox, which collates email notifications and social networking feeds such as Twitter and Facebook.
Coming to the UK
Vodafone have said that they'll be one of the first carriers to haul the BlackBerry Torch 9800 over to Blighty, and users will soon be able to pre-register their interest on their website.
There's been no word on release dates or pricing. although we expect the handset to be shunted out at around £30-£35 per month deal on a 24 month contract.
Too little, too late?
With recent research revealing that half of current Blackberry users are considering a switch to another platform, we're not sure that this new handset is going to be enough to stop some users drifting away.
With both Android and Apple surging forward with better spec'd handsets and app stores bursting at the seams, this handset may satisfy loyal Blackberry fans, but the grass may start looking a lot greener elsewhere for others.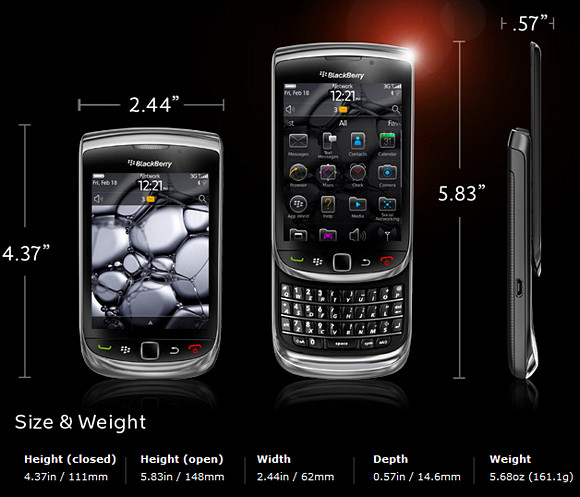 Specs:
Here's the confirmed specs:
– Full-QWERTY keyboard and large touch screen display
– High resolution capacitive touch screen (480 x 360 pixels, 3.2-inch diagonal measurement) with accelerometer
– HSDPA support (3.6 Mbps)
– Built-in GPS and Wi-Fi (802.11 b/g/n)
– 5 MP camera with flash, autofocus, digital zoom, face recognition
– 512 MB Flash, 4 GB onboard memory, microSDHC memory card slot (up to 32 GB)
– 624 MHz processor
– 3.5mm stereo headset
– Bluetooth v2.1 + EDR (A2DP/AVCRP)
– Running BlackBerry 6 OS which offers:
– Crisp, more immersive visuals, including new icons, graphics and animations
– New WebKit-based browser; high-fidelity and very efficient, with tabbed browsing
– Multi-touch support (e.g. pinch to zoom) while browsing, viewing photos, etc.
– Graphical, context-sensitive pop-up menus
– New multimedia UI, Podcast, YouTube, RSS and social networking feed apps
Other comment:
"BlackBerry Torch Hands-on: What We Like, What We Don't" [Laptop magazine]
"Underwhelming BlackBerry spells doom for RIM" [MSNBC]
"BlackBerry Torch Impressions: The BlackBerry, Weirdly Evolved" [Gizmodo]