We recently switched over to BT's Infinity broadband service, tempted by the increased speeds and the offer of a free Humax DTR-T1000 Freeview YouView box.

After a slight hiccup with installation (the engineer managed to disconnect our phone line for 5 days), we've generally been impressed with both the speed of service and the Humax box, which integrates Freeview and internet catchup TV with some aplomb.
Things went so well in the first day we though that our nightmare experiences with Humax products were finally over and the company had finally got their act together.
Unfortunately, things started to go awry two days after installation.
While trying to select the 'view in HD' option while watching a BBC program, the screen overlay froze and the only way to get rid of it was to physically turn the box on and off – none of the remote control buttons would work, neither would the physical buttons on the box.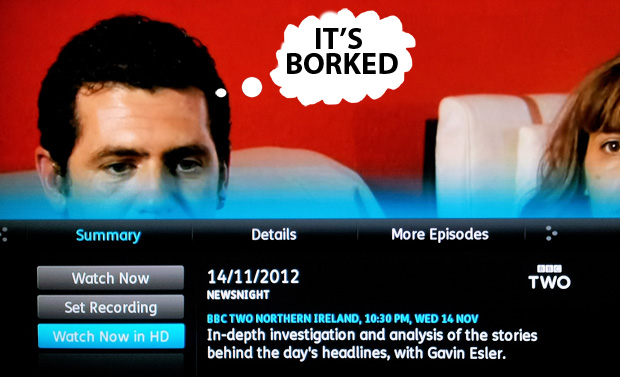 We hoped it was a one-off glitch, but we've now seen it happen on a regular basis and it's getting rather annoying.
We contacted BT who said that Humax had been made aware of the fault and that they were "working on a fix."
Ominously, the last action recorded in BT's system by Humax on this issue dated back to the end of October, which suggests that they're either taking their time over this, or that it's proving to be a tough problem to fix.
BT have promised to keep us updated weekly on this issue, so please check back for any news and post up any problems you've had below.