Android owners in desperate need to exchange photos and contact details with friends by tapping handsets together can now get sharin' with the Bump app.
Already available on the iPhone (see vid below), the Android version offers support for both contact and photo swapping and is now cross platform too, so it's possible to bump an Android phone with an iPhone to exchange data.

iPhone Bump updated
The Android app is in fact a version behind the iPhone's which was recently updated to include a 'Friend Compare' feature.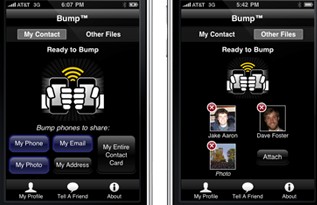 This checks the address book and Facebook profiles of you and the person you're bumping with for mutual friends, and also includes deeper Facebook integration, letting you mail a notification to yourself through Facebook when you've been out a-bumpin'.
The app also lets you publish an item to your friends' News Feeds when you Bump a new contact and you can check through your Bump history, to see who, where, and when you've met your new chums.
We have to say that this is one of these things that we love the idea of but are unlikely to ever use.
Perhaps if Bump manages true cross-platform adoption it may eventually become the de facto way to transfer contact info and other data between people, but for now we're just as happy typing it in.