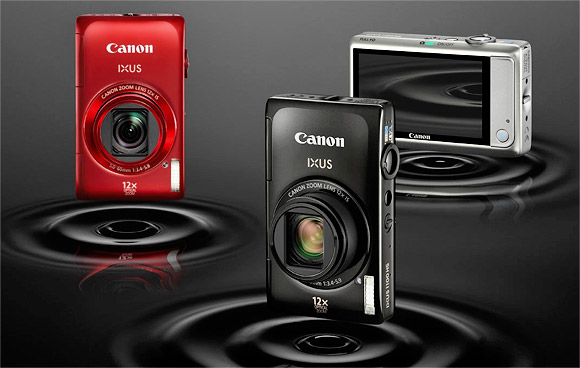 Shimmying into view is the shiny new Canon IXUS 1100HS ultra-slim compact superzoom camera, a high end model packing a huge 12x zoom and curiously illustrated hovering over an oily liquid.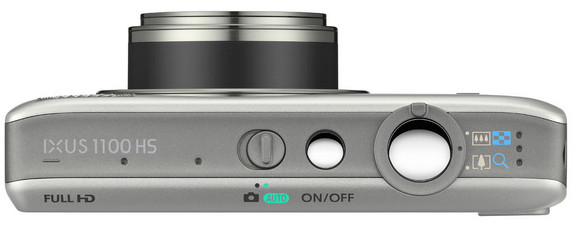 The latest, greatest member of the IXUS family packs in a mighty 12x image stabilised optical zoom, covering a mahoosive 28-336mm (35mm equiv) range.
Touchscreen
Inside lurks a 12.1MP back-illuminated CMOS sensor, while a 460k dot 3.2″ (8.8cm) touchscreen LCD awaits the attention of your smudgy fingers at the rear.
The 'ultimate touchscreen' IXUS comes with Canon's advanced HS System for low-noise images, backed by an Intelligent IS system to ward off the wobblies.
There's full HD video on board, as well as the ability to shoot high-speed bursts and slow-motion movies for those extra dull slo-mo 'golf swing' movies.
Taking a cue from Lumix compacts, the Canon can shoot at 16:9, 3:2 and 1:1 image ratios, and there's the usual load of built-in creative effects such as Miniature, Toy Camera, Super Vivid and Poster Effect. plus 32 scene modes.
We've no idea on pricing yet but scroll down for a spec-feast in the press release.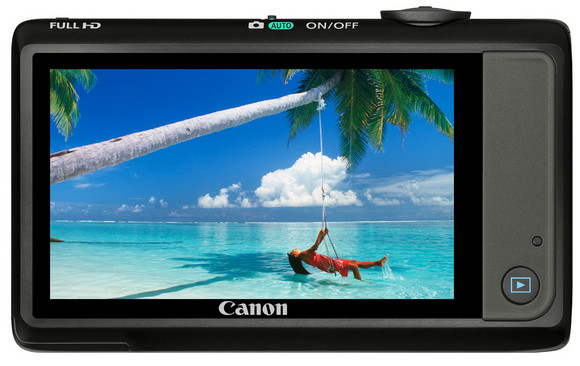 Press release

London, UK, 23rd August 2011 – Canon today unveils the incredible IXUS 1100 HS – the ultimate touchscreen IXUS with an amazing 28mm wide-angle 12x optical zoom lens which retracts fully into a compact, stainless steel body, making it the slimmest camera in its class. This new flagship IXUS is the latest model to offer Canon's advanced HS System for beautiful, low-noise images in all conditions. The
IXUS 1100 HS also features a new Intelligent IS system to ensure any subject is captured in crisp detail, whether up-close, in low light, or at the fullest extent of the zoom.

Combining the latest imaging technologies with Canon's premium IXUS styling, the IXUS 1100 HS is one of the most advanced IXUS models to date – allowing photographers of all levels to capture breath-taking stills and Full HD movies. A huge 8.0 cm (3.2″) touchscreen provides exceptional fingertip control, making it easy to frame and play back images and movies, whilst Full HD video with high quality stereo sound makes the camera the ideal companion on holidays and nights out.

Capture the perfect shot with ease
Ensuring even the most distant subject can be viewed with fantastic clarity, the 12x zoom lens features Canon's precision optics and a 4-stop optical Image Stabilizer – providing outstanding image quality and detail at all focal lengths, from the wide-angle to the extreme telephoto. The new Intelligent IS system also offers greater detail in stills and movies, automatically identifying the shooting situation and selecting the most appropriate image stabilization from seven possible modes. For example, the camera will automatically switch to Macro IS with Hybrid IS technology when capturing a close up shot of a flower, or to Powered IS to improve movie stability when filming far subjects with the long zoom.

The IXUS 1100 HS helps you to take the perfect picture anytime, anywhere, making it easier than ever to capture every moment with enviable results. The inclusion of Canon's HS System – a combination of a 12.1 Megapixel back-illuminated CMOS sensor and proprietary DIGIC 4 image processing – helps to capture the natural ambiance of a scene, producing crisp, low-noise images without having to use the flash or a tripod. Enhanced Smart Auto mode also removes much of the uncertainty from recording special moments, using Advanced Subject Detection to detect up to 32 different scenes and adjust the camera settings accordingly to ensure every subject is well-exposed and in-focus.

The high-sensitivity CMOS sensor also enables a series of high-speed shooting functions. Handheld Night Scene combines the image data from a sequence of high- speed shots into a single image for the best possible exposure with the least amount of blur, whilst Best Image Selection records the best shot from a high-speed sequence of five images. Capture split-second action with High-speed Burst mode, which records 3.0MP resolution images at 7.8 shots/sec. or shoot continuously at full resolution up to 3.3 shots/sec. For more fun with video, Super Slow Motion Movie mode slows down fast-moving subjects, shooting VGA resolution video at 120fps (QVGA resolution at 240fps) and playing it back at a fraction of the real speed4 – perfect for analysing a golf swing or catching the dramatic conclusion to a 100m sprint.

Full HD movies – sit in the director's chair
The IXUS 1100 HS has everything you need to record great movies of friends and family. With Full HD (1080p) resolution, optical zoom and high-quality stereo sound, you can easily switch between still images and movies with one sleek, pocketable camera. With Movie Digest mode, you can even create a VGA-quality film telling the story behind the images you've shot that day. It automatically records the four seconds preceding every still image captured and merges the clips into one show reel which can then be used as bonus footage or shared online.

The world at your fingertips
Allowing you to frame and review your stills and movies with crisp detail and fantastic contrast and colour, the IXUS 1100 HS features a vast 8.0 cm (3.2″) PureColor II Touch LCD screen with a sharp 460k-dot resolution which fills the rear of the camera. With everything at your fingertips you can control different settings with a swipe of a finger; simply touch to focus on the subject with Touch AF or instantly capture the scene with new Touch Shutter.

Taking advantage of the increased flexibility offered by touchscreen technology, how you use the camera and access the settings that matter most is entirely up to you. Shortcuts to the most common menu settings are pre-set to the interface but can be repositioned and customised according to personal preference – making the touch interface quick and easy to navigate.

Share your creativity
In addition to providing the ultimate stylish high-zoom compact for capturing the scene as you see it, the IXUS 1100 HS also features a number of creative modes to explore for fun and interesting results. These include Miniature Effect, Super Vivid and Poster Effect (which are also available when recording Full HD video) as well as Fish-eye Effect, which distorts the image to offer a unique view on a more traditional scene. With Toy Camera Effect or Monochrome you can achieve high-contrast, colourful shots in the style of early pinhole cameras or more atmospheric black and white, sepia or blue monochromatic tones.

Multi-aspect shooting means you can produce images of different shapes and sizes, from perfectly square, to widescreen 16:9 format. A new Photobook Setup mode helps you to select images for photobooks to keep or give to friends and family, or use the IXUS 1100 HS with associated Canon printers to create highly personal gifts and albums. Alternatively, instantly share your favourite shots and video direct from the camera on HDTVs and monitors through the HDMI port5; sit back and browse through your images using the remote of your HDMI-CEC compatible TV.

In addition, the IXUS 1100 HS will also be compatible with the HF-DC2 – a new high power external flash unit that can be used to supplement the on-board flash.

Share stories with CANON iMAGE GATEWAY
Owners of the IXUS 1100 HS can also join the CANON iMAGE GATEWAY, an online facility for sharing photos and video.

The CANON iMAGE GATEWAY Online Photo Album provides up to 2GB of personal storage capacity – enough room for hundreds of high-quality images.

IXUS 1100 HS – key features:

12x zoom, wide 28mm. Intelligent IS
HS System (12.1 MP)
Ultra compact metal body
8.0cm (3.2″) PureColor II Touch LCD
Full HD, Powered IS
Smart Auto (32 scenes)
High-speed Burst & Super Slow Motion Movie
iFrame movie. Movie Digest
Creative modes
Hints & Tips