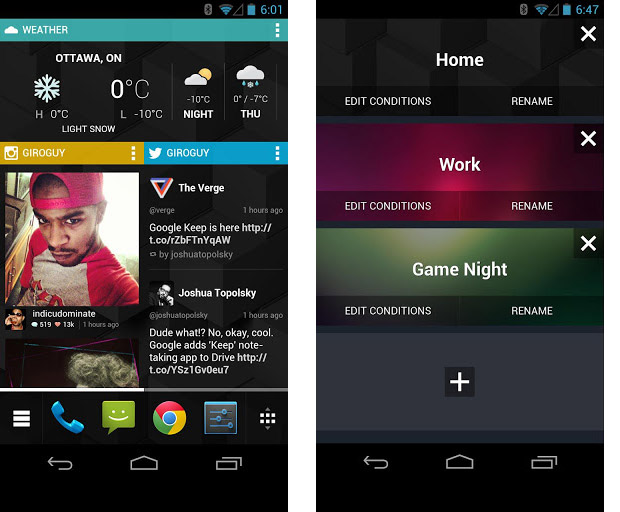 Born from a Kickstarter project, the Chameleon launcher was originally released as as an alternative launcher for Android tablets.
We gave it a go – even though it was quite a pricey purchase – and although we could see that it had bags of promise, there was just too many rough edges to make it our launcher of choice.
The developers have now turned their attention to a mobile version, with the new phone-only version retailing for an upmarket £1.92 (the tablet version is £2.51).
Described as a home screen replacement, Chameleon Launcher lets you create multiple home screens, each with their own layout of widgets and apps.
The widgets are designed to match each other stylistically, providing an integrated home screen rather than the usual hotchpotch of  different styles.
The system supports context rules based on GPS locations, WiFi networks and time ranges, with the interface fully customisable.
The early user reviews on Google Play have awarded the app a rather modest 3.5/5 rating, with several commentating that the app shows promise, but still has some flaws.
It's an app we want to love, but we think we'll hold out a bit longer for the creases to be ironed out – and at nearly £2, it's priced too high for a casual punt.