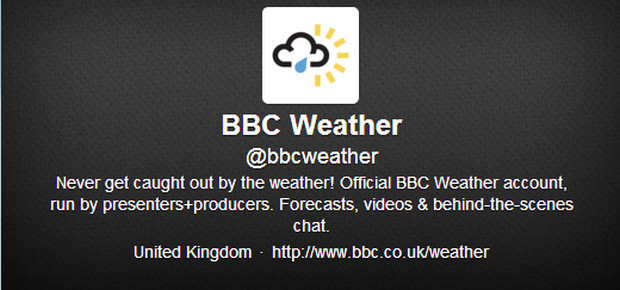 There must be red faces all round at the BBC as their official weather Twitter feed was hacked for a whole two hours this afternoon.
As hackings go, the culprits – calling themselves the Syrian Electronic Army – seemed quite mild mannered folks, only posting a total of nine tweets, and none of them particularly revolutionary, and most with a  weather related theme.
The tweets were left there for two hours before a BBC spokesman finally added:
Sorry about that, we were hacked. Normal service resumes.

— BBC Weather (@bbcweather) March 21, 2013
Here's the full roll call of hacked Tweets.
Other BBC Twitter accounts hacked
The SyrianElectronicArmy (@Official_SEA) also managed to hacked other BBC sites:
@bbcarabiconline & @bbcweather & @bbcradioulster was hacked by Syrian Electronic Army #SEA #Syria

— SyrianElectronicArmy (@Official_SEA) March 21, 2013
Apologies to all our followers our account was hacked today.

— BBC Radio Ulster(@bbcradioulster) March 21, 2013
Best Tweet about the BBC Radio Ulster hack came from this commentator:
@bbcradioulster It was more fun when hacked. Please let them continue.

— Samad Khurram (@SamadK) March 21, 2013
As of 15:52 today, the BBC Arabic account still seems hacked: