We've been using the CrashPlan online backup service for over a year now, and so far have been happy with the service (check our online backup services comparison feature), and the developers Code 42 are now offering a 'pro' backup service.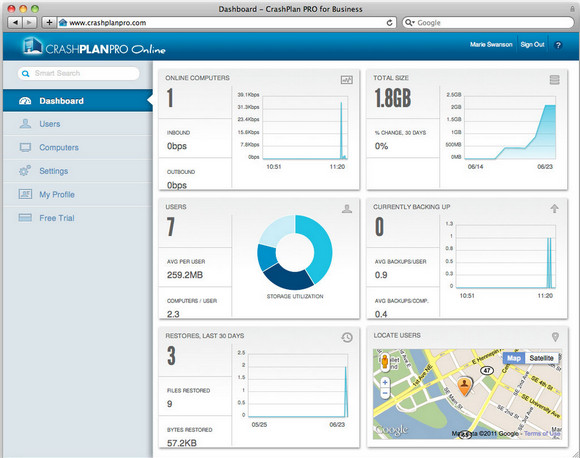 Going under the entirely obvious name of CrashPlan PRO, the new cloud backup service is aimed at small and medium-sized businesses – like graphics and  photography studios where losing image files could be catastrophic.
Funky UI
CrashPlan PRO works in the background, quietly providing an automatic continuous backup, with the encrypted data (448-bit Blowfish encryption) saved to both online and attached drives, with a funky interface keeping users informed of progress.
There's cross-platform support for Windows, Mac, Linux and Solaris (both client and server) and multiple destination support, with two pricing plans available.
Two price plans
The first price plan offers unlimited storage for $7.49 per month per computer, while the second, 'unlimited computers' option provides cover for  an unlimited number of computers with storage from 50GB to 4TB "averaging less than $5/computer/month."
CrashPlan PRO is available immediately to United States and Canada, with worldwide availability expected in Q4.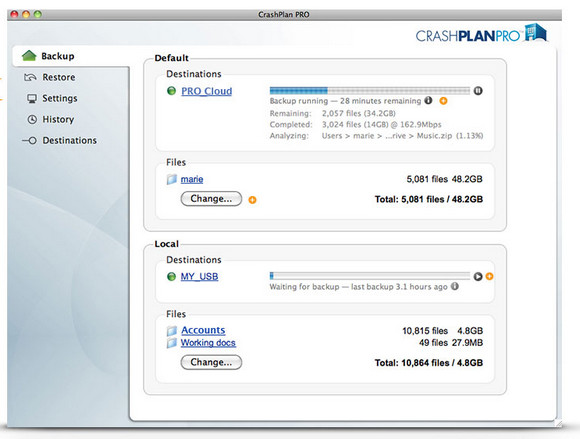 Code 42 Software Press Release
Code 42 Software Introduces CrashPlan PRO for SMBs

Product delivers enterprise-grade backup with consumer ease-of-use for non-IT business owners

(Minneapolis, MN – June 29, 2011) – Code 42 Software Inc., creators of CrashPlan and CrashPlan PROe, award-winning backup software for home and enterprise, announces the immediate availability of CrashPlan PRO, a new cloud backup service for the small and medium-sized business (SMB) market.

Designed specifically for the unique backup needs of SMBs, CrashPlan PRO works unobtrusively, delivering automatic continuous backup, both online and to attached drives. CrashPlan PRO's simplified, web-based management dashboard enables managers to easily monitor all user backups, conduct real-time management, and control company-wide backup settings.  Whether a business has two computers or 200, all desktop and laptop computers are protected.

"We didn't want to simply rebrand our consumer product and call it 'business', nor did we strip down our enterprise product and rename it. Instead, we started with a blankslate and asked, 'What do businesses really need?'" said Matthew Dornquast, founder and CEO, Code 42 Software. "What every business needs is the security and reliability of an enterprise product combined with the ease of use of a consumer product. And of course they'd like to have support from people who really know backup, available via phone, email, and live chat. That's exactly what we're delivering today."

WithCrashPlan PRO, all data is protected with 448-bit encryption before it ever leaves the computer, meaning even the most sensitive business data is safe and secure in the cloud. CrashPlan PRO also features cross-platform support forWindows, Mac, Linux and Solaris (both client and server), multiple destination support, unrivaled support for laptop backup, de-duplication, and comprehensive reporting.

CrashPlan PRO is available immediately to customers in the United States and Canada. Worldwide availability expected is in Q4, 2011.

There are two pricing plans available – unlimited storage per computer, or an unlimited number of computers for a chosen amount of storage.

Unlimited storage – $7.49 per month to back up a single computer with unlimited storage

Unlimited computers – Plans range from 50GB to 4TB averaging less than $5/computer/month*

To learn more about CrashPlan PRO or to download a 30-day free trial, please visit http://www.crashplanpro.com.

About Code 42 Software, Inc.
Code 42 Software, a privately-held company based in Minneapolis, Minnesota, has been developing software to protect the world's data since 2001. From CrashPlan for consumers, to CrashPlan PRO for SMBs, to CrashPlan PROe for the enterprise, all of Code 42's products offer multi-destination, cross-platform backup onsite, offsite and online. For more information, visit http://www.code42.com.

*based on average of approximately 20GB of data per computer