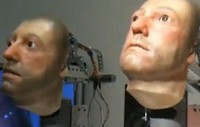 Weird, creepy and, frankly, a bit crap, this freaky $75k art work exhibited at Art Basel Miami Beach 2009 is the work of artist Nathaniel Mellor.
The three realistic face moulds are attached to servos controlled by computer and wobble about to an accompanying audio soundtrack, which replays on a 15 minute loop.
At one point the three flapping faces even sing together.
It's not pretty.