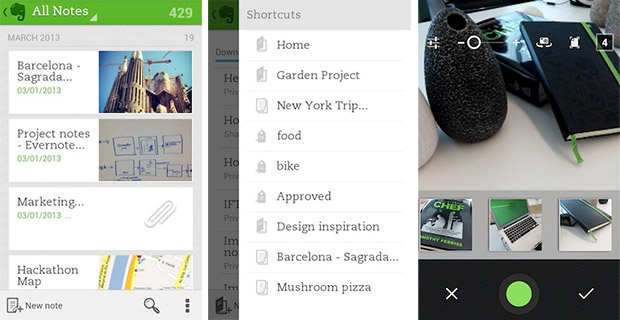 Evernote has announced the latest release of their Android application, with version 5.0 introducing some new features and an updated UI.
The app now has a Shortcuts page which pops up when the screen is swiped to the left, letting users access frequently used notes and notebooks in a speedy fashion.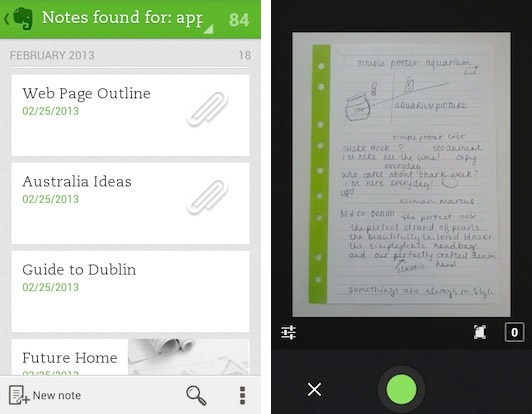 The camera functionality has been boosted, with Page Camera mode letting users snap photos of text, and have the app automatically adjust settings to reduce shadow and increase contrast for legibility.
The camera can also grab multiple shots and add them to a note all at once, and there's also support for Evernote's Smart Notebook by Moleskin – this make its easy to digitise notes and sketches into Evernote.
Premium users get an new Document search which lets them search through attached documents, spreadsheets and presentations.
Here's Evernote's run down of the new features:
Refreshed User Interface

A number of UI updates make the Evernote for Android experience cleaner and more beautiful, including a redesigned Note List and refined icons throughout the app.

Access important notes fast with Shortcuts

Evernote helps you remember everything, and now Shortcuts makes the experience better than ever by letting you access your most important and frequently used notes, notebooks, tags, and Notebook Stacks in one place with a single tap.

Capture memories with multi-shot camera

One of the most common ways Evernote users capture memories is by snapping photos of everything, from family moments to business documents. The new Evernote for Android makes this even easier with the multi-shot camera that lets you snap multiple photos.

Save physical notes in Evernote with Page Camera

Snap a photo of notes, sketches and ideas written on paper with Page Camera. Evernote will find the edges, correct skew and fix shadows so you get a clean version in your Evernote account. Our advanced text recognition will even make your handwritten text searchable, plus Evernote's sync will bring your notes wherever you have Evernote installed.

Enjoy all the features of the Evernote Smart Notebook

Write or draw anything in an Evernote Smart Notebooks by Moleskine, then snap a photo of any page with Page Camera to save it to your Evernote account.

For added convenience, attach SmartStickers (included with the Evernote SmartNotebook) to any page. The Page Camera will detect them and automatically add tags and save the note to a pre-selected notebook of your choice.

Premium feature: Find more with Document Search

Evernote is the perfect place to save all kinds of files, and the new Document Search feature makes it even better. Attach files from Microsoft Word, iWorks, or OpenOffice to notes, and Evernote will make text inside those files fully searchable in-app.

This is just one of the great Premium features available to Evernote Premium and Evernote Business users.