New figures from Nielsen show that the average U.S. Internet user spends more time on Facebook than on Google, Yahoo, YouTube, Microsoft, Wikipedia, and Amazon combined.
What's more, people are spending more and more time on the social networking site. There's no escape!
In June 2009, it was estimated that the average U.S. user spent 4 hours and 39 minutes on Facebook per month – that works out at just over 9 minutes per day in a 30 day month. By August the same year, that number had soared to 5 hours and 46 minutes, or 11.5 minutes per day.
Bonkers
Come the new year, and American folks are still going blinkin' bonkers for Facebook.
The latest stats from January 2010 show the amount of time the average American Facebook user spent on Facebook leaping to over 7 hours – that's  421 minutes per month, or 14 minutes per day.
Such is the dominance of Facebook, if you add up the average time spent on Google (1:23), Yahoo (2:09), YouTube (1:02), Microsoft/Bing (1:35) Wikipedia (0:15), and Amazon (0:22), it still doesn't topple Facebook's time-sucking total.
We'd like to discuss this more, but we're off to update our status now, so here's a load of stats for you to feast on: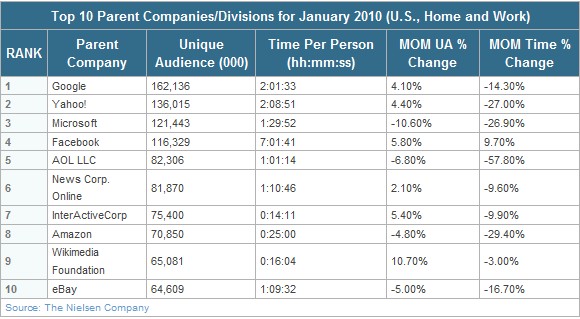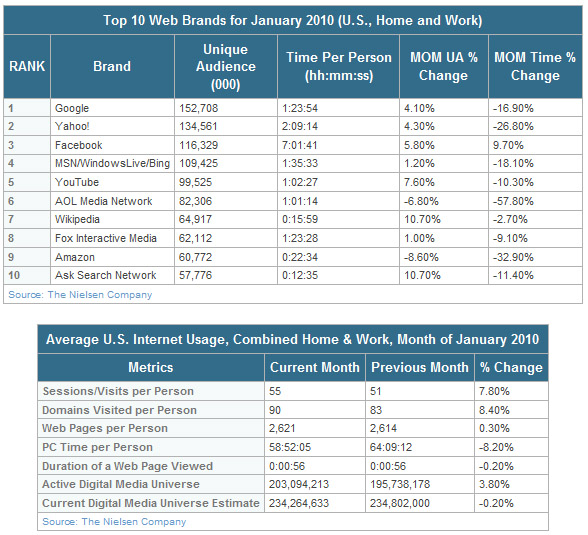 [Via]