Facebook's new Foursquare-crushing location-based feature, Facebook Places, has just launched in the UK, a month after hitting the USA.
The new feature is being rolled out gradually, so it may take a while for it to appear on your iPhone or in your mobile browser.
iPhone gets first dibs
Only iPhone users get all the new Facebook Places goodness squeezed into their phone's app, while other mobile users have to navigate their way to Facebook's mobile site touch.facebook.com (note that it'll only work if your mobile browser supports HTML 5 and geolocation).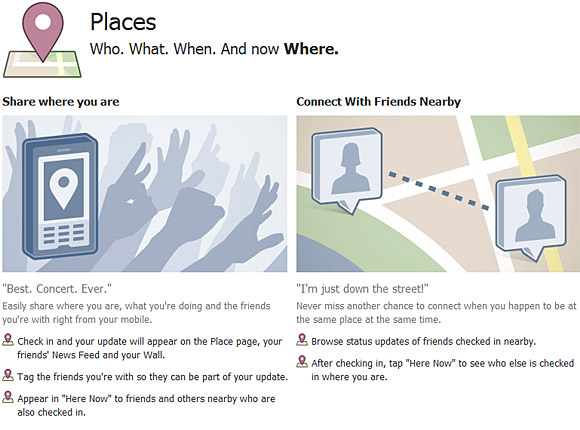 What does Facebook Places do?
Put simply, the feature lets you 'check into' real-world locations via  your Facebook profile, and let your friends know where you are – and you can see where your Facebook pals are too.
There's been some pretty major privacy concerns kicked up about this feature, although Facebook are quick to stress that users have full control over their privacy options, with  check-ins  defaulted to friends only (although we're not sure that you'd want all your friends to know where you are at any given time).
Here's our earlier overview explaining how it all works:
Once you've got Facebook fired up, you can hit the "Check In" button to see a list of places near you, and once you've selected the venue you're at, your check-in will create a story in your friends' News Feeds and show up in the Recent Activity section on the page for that place.

When checking in, you can also tag friends who are with you – like  you might tag a friend in a status update or photo – and you also can post an update along with your check-in to tell folks what you're up to (e.g. I'm going to the boozer to get smashed").

The "People Here Now" section lets you see who's already checked in with you at that place, although this is only visible for a limited amount of time and only to people who are checked in there.

The idea is that you can find people who share your interests and see who's out on the town near you, although there's the option to uncheck the "Include me in 'People Here Now' after I check in" settings in privacy control.
More: Facebook Places explained: it's all about the check-ins and sharing
Goodbye Foursquare
A recent survey commissioned by MyVoucherCodes.co.uk of over one thousand UK Foursquare users revealed that the vast majority – a hefty 82% – would leave the service faster than rats off a sinking ship once  Facebook places launched in the UK.
Facebook's colossal user base – more than half-a-billion active users worldwide – will no doubt also prove a magnet to advertisers looking for a piece of the check-in action – like Domino's Pizza in the UK, who gave away freebies to their most loyal Foursquare customers.
[Facebook Places for UK: all you need to know]