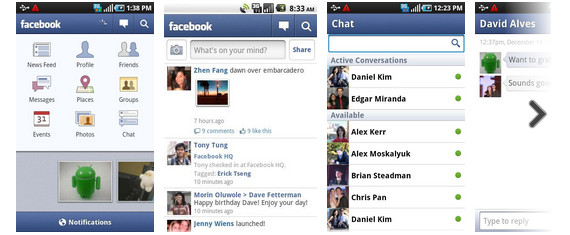 Facebook has just announced a shiny new version of its Android application, and it should be landing in an Android Market near you any minute now.
Sadly there's no groovy big feature upgrades onboard, just a general oiling of the cogs and a greasing of moving parts.
Facebook insist that the whole experience will now be faster: here's the listing of what to expect:
Photos get better – Photos and albums are up to two times faster than the previous Android app. It's also easier to share photos, view comments and edit captions on the go.
Messages on top – Your messages and notifications are now at the top of your screen. You can respond to friends and stay updated without leaving the page you're on.
Menu on the side – You can quickly access your News Feed, Groups, games and apps from the new left-hand menu. The features you use most are now at your fingertips.
Download it here: Facebook for Android
[Via]