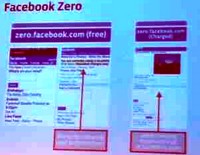 Facebook has announced a new, stripped down version of its site at the Mobile World Congress in Barcelona.
Called Facebook Zero, the text-only version of the social networking site is aimed at reducing the bandwidth requirements of the service by getting rid of data intensive applications like photos – something that will no doubt please mobile operators.
Facebook spokesperson Brandee Barker describes the service:
"Zero" is a light-weight version of m.facebook.com that omits data intensive applications like Photos. It will launch in coming weeks and we are discussing it at MWC as an option to make Facebook on the mobile web available to everyone, anywhere and allow operators to encourage more mobile Internet usage.
Now the biggest social network on the planet, Facebook recently claimed that an astonishing 100 million people access the site from their phone, and stripping down the bells and whistles might help operators free-up critical bandwidth on their networks.
Such is the site's popularity, industry body the GSM Association recently revealed that it accounts for nearly half of all the time Brits spend going online using their phones, with the UK collectively notching up 2.2bn minutes browsing the social network during December alone.

Facebook Zero will be accessible at zero.facebook.com and is set to launch "in the coming weeks."
We just tried to access it on our desktop and were told: "Sorry, your carrier does not support zero.facebook.com."
[Via]