Set to arrive today across the Windows/Mac/Linux platforms is the latest version of Firefox, serving up a less-cluttered, minimalistic interface, synchronisation and a claimed thumping great speed increase.
Faster! Quicker!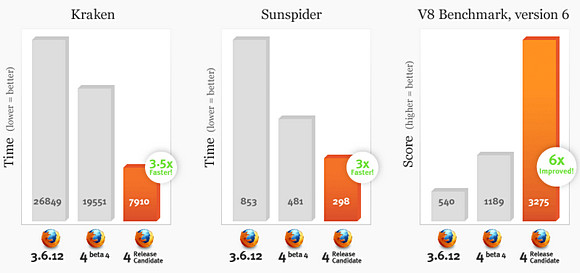 With the browser fuelled by a brand new JägerMonkey JavaScript engine (weren't we drinking that last night?), the team at Mozilla insist that the new browser is between three to six times faster than its predecessors, offering faster start up times, nippier graphics rendering and improved page load speed.
Packet of tabs

Tabbed browsing has enjoyed a substantial revamp too, with Firefox 4 serving up a new Tab Panorama window which displays a visual layout of open tabs and lets you drag and drop tabs into customised groups.
Slimmed down like Twiggy on Complan

The interface has also been slimmed down, with a Chrome-like arrangement clearing up the clutter and moving the reload and stop buttons into the address bar .
The latest update also adds the ability to "pin" tabs (a la Google Chrome), and Firefox Sync usefully brings password, bookmark, history, open tab, and setting synchronization to Firefox.
We'll probably stick with the cross-browser utility of Xmarks but if you're a Firefox-only kind of person, the syncing will be very useful.
We'll certainly be giving Firefox 4 another try to see if it can usurp Chrome…