Blackberry users keen to tell everyone where they are and what they're doing will be chuffed to learn that the location and checkin app Foursquare app for Blackberry now comes with push notifications bolted on.
Thanks to this new feature, BlackBerry strutting stalkers users will be able to instantly know when and where their friends check in, without the need to have the app hogging battery life in the background.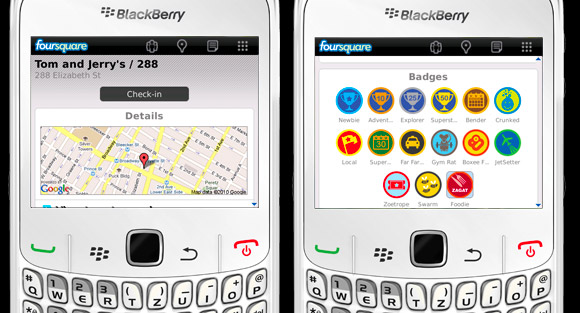 More improvements ahoy
Foursquare say that there's a host of other new improvements to be found in their latest v1.9.5 version, including faster loading times, better battery life and "improved touching" so that, "BlackBerry touch users now can fly through the application." Ooo-er.
The updated app can be downloaded from here.
Can't connect?
You may have to fiddle about with your phone's permissions to allow the foursquare app to properly connect to the internet. Here's how you can change your app permissions:
On your BlackBerry, go to "Options" > "Advanced Options" > "Applications"
Scroll through the list to find the "FourSquare" app
Hit the menu button and select "Edit Permissions" from context menu
Change the permissions for "Connections", "Interactions" and "User Data" to "Allow"
On exit, save the changes
Do that Foursquare thing