For folks who like their zooms lens to be big and beefy, Fujifilm's new FinePix HS10 'bridge' digital camera could be worth considering.
Packing a mahoosive 30x optical zoom, the  zoom starts at an unusually wide (and very useful) 24mm and powers up to a distant-speck spotting 720mm (35mm equivalent).
The Fujifilm HS10 is one of only two digital cameras in the known universe currently packing a 30x zoom lens (the other one is the Olympus SP-800UZ), with Fujifilm wisely adding mechanical image stabilisation and high ISO sensitivity to try and keep pictures sharp.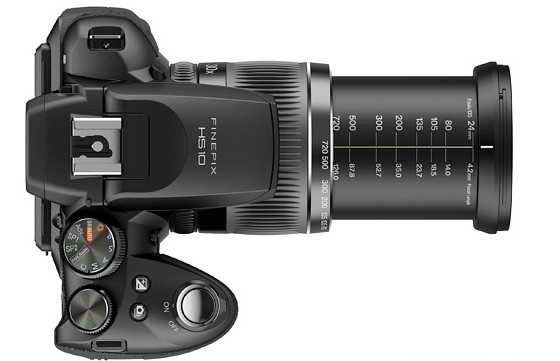 With a street price of around £400, the 10 megapixel camera looks a tempting offering, coming with a back-illuminated sensor, a large 3-inch tilting LCD monitor and electronic viewfinder with eye-sensor for automatic switching.
Movie support comes in the shape of full 1080p HD movie recording with stereo sound, Super High Speed movie capture at 1,000, 480, 240, 120 and 60fps (with image sizes varying from 224×64 to 1280×720), plus continuous shooting at 10fps.
As well as the usual slew of auto/scenes, there's also full manual controls onboard, manual zoom and focus rings, external flash hotshoe and support for shooting in RAW.
Neutron bomb photography
Fujifilm have included a novel feature called "Motion Remover Mode" that fires off five images of a scene in quick succession and then analyses and combines the images to produce a single photo where anything moving in the scene has been removed.
"Never before has capturing postcard-quality shots of tourist traps – without the tourists – been so easy", insist Fujifilm.
A viable dSLR alternative
Styled like a dSLR, and looking like a serious bit of kit, the HS10 is a bijou number at 130.6 (W) x 90.7 (H) x 126.0 (D) mm and  offers a full complement of dials and buttons for quickly accessing menus and adjusting settings, with a handy pop up flash.
Described as "one of the best super-zooms around and also a viable alternative to a DSLR camera" by PhotographyBlog, there's no doubting that that the HS10's wonderful zoom range can prove a tempting alternative to lugging about a large SLR and a collection of lenses, although there are some downsides.
Small sensor
The camera's small sensor can't compete with dSLRs when it comes to shooting over 400ISO, and if you like to shoot in RAW, the  processing lag may drive you up the wall.
Similarly, the distinctly average electronic viewfinder  is a poor performer compared to a dSLR's optical finder, but we're not really comparing eggs with eggs here.
The HS10 is not selling itself as a dSLR replacement – instead it's a hugely capable, reasonably priced alternative, offering a great feature set, a high quality lens, 1080p movie recording and manual controls in a hugely portable package.
It's not a camera we'd recommend for bush-dwelling twitchers or celeb-stalking wannabe paps, but if you're after a great all-round camera, it's got to be worth a look.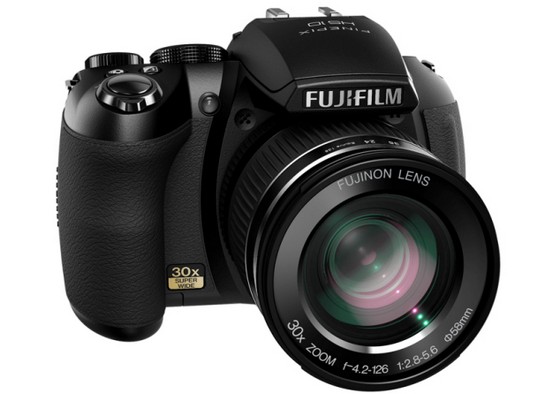 FinePix HS10 / HS11 specs
Number of effective pixels – 10.3 megapixels
Image sensor – 1/2.3-inch BSI-CMOS
Storage media
* Internal memory (Approx. 46MB)
* SD memory card
* SDHC memory card*2
File format
Still image:
JPEG (Exif Ver. 2.2 *3), RAW (RAF format), RAW+JPEG
Movie:
MPEG4(MOV, H.264/AVC, ISO standard) with stereo sound
Audio:
WAVE format, Monaural sound
Number of recorded pixels
Still image: 3,648 x 2,736 (10M) / 3,648 x 2,432 (3:2) / 3,648 x 2,056 (16:9) / 2,592 x 1,944 / 2,592 x 1,728 (3:2) / 2,592 x 1,440 (16:9) / 2,048 x 1,536 / 2,048 x 1,360 (3:2) / 1,920 x 1,080 (16:9) pixels
Lens
Fujinon 30x optical zoom lens, F2.8 (Wide) – F5.6 (Telephoto)
Lens focal length
f=4.2 – 126.0mm, equivalent to 24 – 720mm on a 35mm camera
Aperture
Wide: F2.8 / F11.0, Telephoto: F5.6 / F11.0
Focus distance (from lens surface)
Normal:
* Wide: Approx. 50cm / 1.6ft. to infinity
* Telephoto: Approx. 3.0m / 9.8ft. to infinity
Macro:
* Wide: Approx. 10cm – 3.0m / 0.3ft. – 9.8ft.
* Telephoto: Approx. 2.0m – 5.0m / 6.5ft. – 16.4ft.
Super Macro:
* Approx. 1cm – 1.0m / 0.4in. – 3.2ft.
Sensitivity
Auto / Equivalent to ISO 100 / 200 / 400 / 800 / 1600 / 3200 / 6400 (Standard Output Sensitivity)
Exposure control
TTL 256-zones metering
Exposure mode
Programmed AE, Aperture Priority AE, Shutter Priority AE
Shooting modes
Mode Dial:
Auto, SR, Adv, SP1, SP2, PANORAMA, C, P, S, A, M
SP:
Portrait, Portrait Enhancer, Landscape, Sport, Night, Night (Tripod), Fireworks, Sunset, Snow, Beach, Flower, Text, Natural Light, Natural Light & with Flash, Party

Image stabiliser CMOS-shift type + DIS
Shutter speed
(Auto mode) 1/4sec. to 1/4000sec.
(All other modes) 30sec. to 1/4000sec.
Continuous shooting
max. 7 frames (3 ,5, 7 and 10 frames/sec.)
Focus
Auto focus (Area, Multi, Center, Tracking), Continuous AF, Manual focus (One-push AF mode included), AF assist illuminator available
White balance
Automatic scene recognition
Preset: Fine, Shade, Fluorescent light (Daylight), Fluorescent light (Warm White), Fluorescent light (Cool White), Incandescent light, Custom
Self-timer
Approx. 10sec. / 2sec. delay
Flash
Auto flash
Effective range (ISO 800):
Normal:
* Wide: Approx. 30cm – 8.0m / 1.0ft. – 26.2ft.
* Telephoto: Approx. 2.0m – 4.0m / 6.5ft. – 13.1ft.
Flash modes
Red-eye removal OFF: Auto, Forced Flash, Suppressed Flash, Slow Synchro.
Red-eye removal ON: Red-eye Reduction Auto, Red-eye Reduction & Forced Flash, Suppressed Flash, Red-eye Reduction & Slow Synchro.
Electronic Viewfinder (EVF)
0.2-inch, Approx.200,000dots,FLCD monitor,Approx. 97% coverage
LCD monitor
3.0-inch, Approx. 230,000 dots, color LCD monitor, Approx. 97% coverage
Movie recording
1,920 x 1,080 pixels (Full HD) / 1,280 x 720 pixels (HD) / 640 x 480 pixels / 320 x 240 pixels (30 frames/sec.) with stereo sound
Photography functions
High Speed Movie (60/120/240/480/1000fps), SR AUTO (Scene Recognition Auto), Motion Panorama, Best Framing, Frame No. memory, Histograms, Zoom Bracketing, Best frame capture, Face Detection (with Auto red-eye removal), Pro Low-light, Motion Remover, Multi Motion Capture, Silent mode, Instant Zoom
Playback functions
Face Detection (with Red-eye removal), Crop, Resize, Image rotate, Slideshow, Multi-frame playback (with Micro Thumbnail), Sorting by date, Voice Memo, Image search, Histograms, Highlight warning, Movie trimming, Movie join
Video output
HDMI (Type C)
NTSC/PAL selectable
Digital interface
USB 2.0 High-speed
Power supply
4x AA type alkaline batteries (included)
Ni-MH rechargeable batteries (sold separately)
Lithium batteries (sold separately)
DC Coupler CP-04 with AC power adapter AC-5VX (sold separately)
Dimensions
130.6 (W) x 90.7 (H) x 126.0 (D) mm / 5.1 (W) x 3.6 (H) x 5.0 (D) in. (excluding accessories and attachments)
Weight
Approx. 636g / 22.4oz. (excluding accessories, battery and memory card)