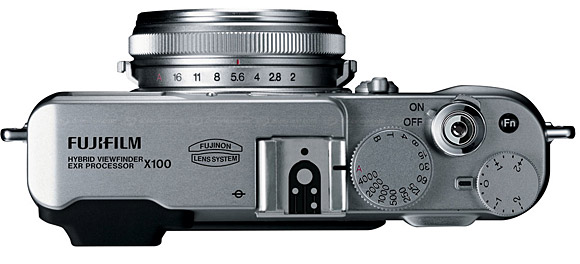 Fujifilm's stunning, retro-styled Finepix X100 camera is the one snapper we're really looking forward to seeing this year, although there's still no definite release date ("sometime in March" is as good as we've got so far).
Tantalising snippets of info continue to percolate through about this high end street shooter, which boasts an APS-C size 12.3 megapixel CMOS sensor, a fast 23mm F2 lens and dSLR-like speed of operation.
Apart from its stunning looks, the stand-out feature is the Hybrid Viewfinder which projects digital shooting info over the optical view – the holy grail of compact cameras.
Not for cheapskates
Rumoured to come with a leg-crossing $1,000 price tag, this is not a camera for casual shooters but looks ideal as a second camera for dSLR users, or as the perfect tool for fast and light street shooting.
The video below is a bit rough and ready, but it gives you a good idea of how the revolutionary viewfinder works. We want! Very much.
Specifications:
Model Name FinePix X100
Number of effective pixels 12.3 million pixels
CCD Sensor APS-C CMOS Sensor
Storage Media SD / SDHC / SDXC memory card
Lens High-performance FUJINON lens with Super EBC Coating
Focal Length 23mm, equivalent to 35mm
Aperture Range F2 to F16
Exposure Mode Programmed auto mode, Aperture priority mode, Shutter priority mode and Manual mode
Exposure Compensation -2.0EV-+2.0EV
Shutter Speed Bulb, 30 sec. to 1/4000 sec.
Focus High-speed contrast AF
Optical Viewfinder 0.5X magnification with approx. 90% frame coverage
Electronic Viewfinder Ultrafine 1,440,000-dot LCD
LCD Monitor 2.8-inch, Colour LCD monitor, approx 460,000 dots
Movie Recording 1280×720 HD with stereo sound
Dimensions 126.5(W) x 74.4(H) x 53.9(D) mm including lens