Currently bobbing near the very top of our list of hot phones we'd like to own is Motorola's fabulously powerful new Atrix 4G Android phone.
Packing a full suite of scrumptious specs and billed as the 'world's most powerful smartphone', the Atrix struts manfully around with a generous 4″ 960 x 540 pixel screen backed by a beefy dual-core Nvidia Tegra ARM processor.

Power packed monster of a phone. Grrr!
With 1GB of RAM onboard plus 16GB of internal storage and up to 32GB extra space courtesy of a microSD card, the Atrix should be able to squirrel away all the multimedia files you could possibly want.
There's also a 5MP camera with LED flash and 720p HD video capture and a front VGA camera for video calls built in, and a ton of media format support.
Dock it up
Even better, you can shell out for the optional Motorola HD Multimedia Dock which adds three USB ports and an HDMI-out slot, or you can really go for it and grab the Motorola Laptop Dock which gives you a netbook-equalling 11.6-inch screen, a three cell battery and a full keyboard and trackpad.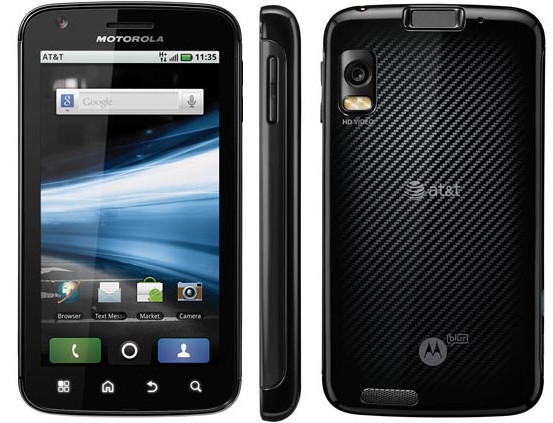 All that cutting edge tech is cranking our desire-o-meter into the red, but our amour cooled momentarily when we saw this promo video showing Roger McSmug of Smarmy Associates Inc breezing through airport security with his Motorola Atrix.
It's really awful.