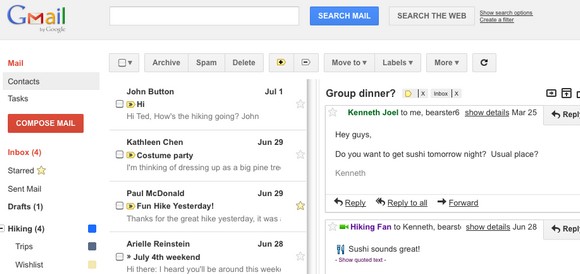 Now here's something we've been wanting in GMail for yonks: a preview pane.
Google has just added this handy feature which lets you instantly preview emails in your inbox.
The new layout looks much the same as GMail on a tablet device and it works great on laptops/desktops, particularly if you've got a decent sized screen.
To get the new view, you need to click on the 'Labs' option (top right corner of the browser when you're in GMail and scroll down to find the Preview Pane entry. Press 'enable' and after a quick restart you'll be ready to go).
Once installed, you'll find a toggle button in the top right corner of your message list – click this and you can switch between preview and list views.
There's also the option to move the preview pane below your message list (via the dropdown arrow next to the toggle button), and you can adjust the size of the panes by dragging their borders.
We absolutely love this feature and are chuffed to see it works with all the old Gmail shortcuts too (if you're not familiar with these, click '?' while in Gmail to see a listing).
Nice one Google!