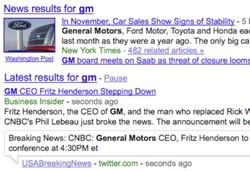 Google has announced a new search service that serves up a dynamic stream of real-time content from across the web, incorporating near-instant updates from web pages and social networking partners.
When searching on Google, you'll soon be able to see live updates from popular sites like Facebook, Twitter, FriendFeed and MySpace, as well as freshly published headlines from news sites and blog posts.
As Google explained in their Google blog, the new feature is all about delivering news fast:
Our real-time search enables you to discover breaking news the moment it's happening, even if it's not the popular news of the day, and even if you didn't know about it beforehand.

For example, in the screen shot, the big story was about GM's stabilizing car sales, which shows under "News results." Nonetheless, thanks to our powerful real-time algorithms, the "Latest results" feature surfaces another important story breaking just seconds before: GM's CEO stepped down.
Clicking on "Latest results" or selecting "Latest" from the search options menu will serve up a page full of scrolling live tweets, blogs, news and other web content, with a new "hot topics" feature on Google Trends displaying the most common topics people are publishing to the web in real-time.
Previously, it took a few minutes for updates from social networks and blogs to filter into Google's results, but the new technology will now zap updates from a host of sources  on to users' screens in seconds.
O