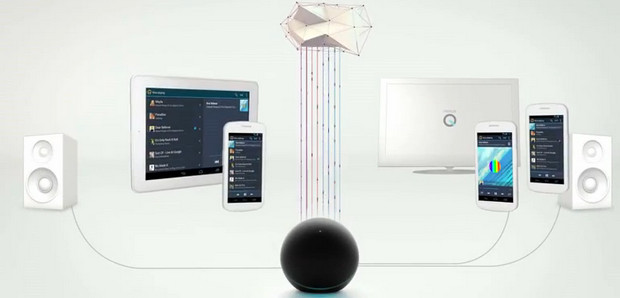 Google has unveiled the Nexus Q, a curious, minimalist, streaming home entertainment hub packed in a 4.6 inch sphere.
Described as a "cloud-connected jukebox where everybody brings their own music to the party," Google's new streaming media player looks like a mix of Star Wars and Kubrick's 2001, with its none-more-black shell and colourful LED strip on its equator.
Here's how Google describe its functionality:
Nexus Q streams your favorite entertainment directly from the cloud to your living room. Just use the Google Play and YouTube apps on your Android phone or tablet to surf an ocean of music, TV, movies and music, and Nexus Q will play it all on the biggest speakers and screen in the house. There are no downloads, no syncing, no running out of space. Just the stuff you love — at home and out loud.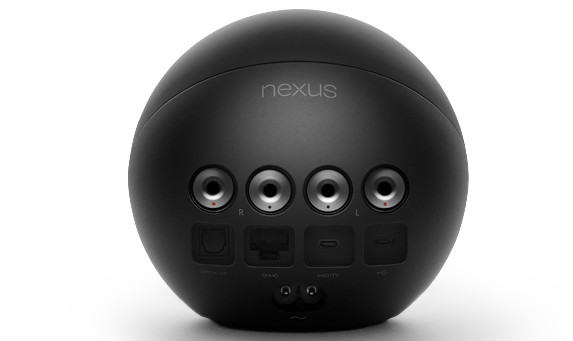 Lurking inside the sphere is a small, Android-based computer that is permanently hooked up to a user's Google cloud content, with Android 4.1 Jellybean devices being used as the remote control.
If you're hosting parties, anyone with an Android tablet or handset can add their own music, movies and videos, although owners may soon feel inclined to turn off the 'guest' feature when the S Club 7 starts to blare out.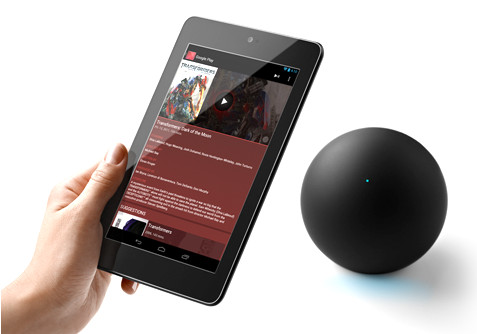 Inside the orb can be found a Texas Instruments OMAP chipset and micro HDMI, NFC and Bluetooth.
There's support for Ethernet, optical audio output, micro USB and standard banana jack speaker outputs.
There's also a built-in 'audiophile-grade' 25W amplifier, so it can be attached directly to a pair of bookshelf speakers.
At the moment, only the Nexus 7 tablet works with the Nexus Q, but Google say that tablets and handsets running earlier versions of Android will also work with the streaming media player.

The Q will be retailing for $299 in the States, but there's no news about a UK release, as is often the case with new Google releases.
Tech Specs
DIAMETER
4.6 inches (116 mm)
WEIGHT
2 pounds (923 grams)
FINISH
Die-cast, precision machined zinc bottom housing
Injection-molded, interactive balanced top dome with precision bearing and satin touch coating
HARDWARE CONTROLS
Rotating top dome volume control
Capacitive touch sensor for mute on/off
LIGHTING
32 RGB perimeter LEDs
1 RGB LED for mute indicator
CPU
OMAP4460 (dual-core ARM Cortex-A9 CPU and SGX540 graphics core)
MEMORY
1GB LPDDR RAM
16GB NAND flash memory
OS
Android 4.0 (Ice Cream Sandwich)
SUPPORTED APPLICATIONS
Google Play Music
Google Play Movies and TV
YouTube
CONNECTORS AND PORTS
Micro HDMI (Type D)
TOSLink Optical audio (S/PDIF)
10/100BASE-T Ethernet (RJ45)
Micro AB USB (for service and support)
Banana jack speaker outputs
WIRELESS
WiFi 802.11 b/g/n
Bluetooth
NFC
AMPLIFIER
25W class D (12.5 watt per channel)
POWER
Integrated 35W switching power supply
World-ready 50/60Hz 85-265V AC input
Automatic shutdown for audio amp supply when not in use
[Hands on preview] [Google page]