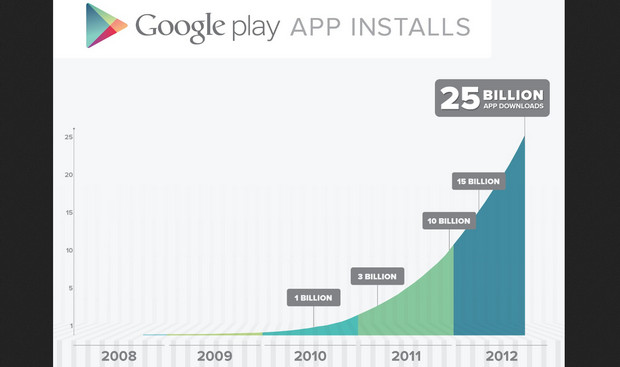 Google have announced that there has now been no less than 25 billion downloads from Google Play, and to celebrate they're dishing out some big discounts on selected apps for the next five days.
The Google Play store (formerly known as Android Market) now also houses an incredible 675,000 apps and games.
The Google blog entry goes on to tell users more about the bargains on offer:
Every day you'll be able to choose from a collection of apps from some of the world's top developers including Gameloft, Electronic Arts, Rovio, runtastic, Full Fat and more. And all for just 25 cents. We'll also be offering some special collections like 25 movies you must own, 25 banned books, 25 albums that changed the world and our 25 top selling magazines, all at special prices. Visit Google Play a little later today to check them out.
The continuing growth of Android puts the OS ever closer to the Apple, whose own App Store hit the 25 billion–downloads mark back in March 2012.
Android is also catching up fast when it comes to the total applications and games available, which is now hot on the heels of Apple with its 700,000 apps.