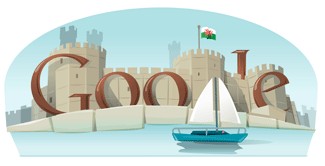 Big up Google for acknowledging today as St David's Day – the national day of Wales – with their search engine homepage showing a rather curious Welsh-themed illustration.
Here's Wikipedia to explain what it's all about:
Saint David's Day (Welsh: Dydd Gŵyl Dewi Sant) is the feast day of Saint David, the patron saint of Wales, and falls on 1 March each year. The date of March 1st was chosen in remembrance of the death of Saint David on that day in 589, and has been celebrated by followers since then. The date was declared a national day of celebration within Wales in the 18th century.
Curiously, the role of the Welsh in America's history has always been rather underplayed: how many US citizens know that almost 50 percent of the signers of the American Declaration of Independence were Welsh or of Welsh descent – as were nine of the Presidents of the United States – and that many of the universities and colleges such as Yale, Princeton, Brown, William and Mary, Virginia, Johns Hopkins, and Andover were founded by Welshman!
Our sister site, urban75 has thousands of photos of Wales – here's a few from the collection:

Craig Llanishen, north Cardiff

Crickhowell, Powys.

Penarth pier, south Wales.