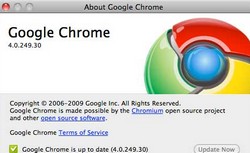 Google Chrome is finally available for shimmying onto shiny Macs with a long overdue beta release of the browser for Mac users.
It's been a mighty long wait for Apple aficionados, with the beta release coming  more than a year after PC users have been able to bask in its lean, mean goodness.
Now available for folks running running Mac OS X 10.5 or higher and an Intel processor, the beta still doesn't match the full fat functionality offered with Windows, but at least Mac users can get a taste of what's to come.
Macs vs PC
The Mac version look more or less the same as it's Windows counterpart when they're opened up side by side – the buttons and menu bars are in the same place and the tabs work the same way –  although the Mac version can't do bookmark synching or install extensions, which is a bit of a major bummer.
Mac users should still feel right at home from the off as Chrome looks very similar  to Safari 4.
If you fancy trying it out, direct your browser to google.co.uk/chrome and select the Mac option.