Google has had a tidy up in its GMail Labs inventory, promoting some experimental features to full products while telling others they're simply not good enough.
The Labs portion of Gmail had become so overcrowded with scuttling boffins busily tweaking and a-tinkerin' with over 60 beta features that a bit of a clear out was needed.
Congratulations
Movin' on up to become fully fledged members of the GMail default experience are Search Autocomplete, Go To Label, the Forgotten Attachment Detector, YouTube Previews, Custom Label Colors, and Vacation Dates.
No Boot Camp for you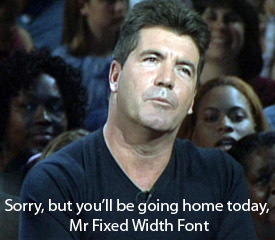 Quietly shown the door and sobbing like failed Pop Idol contestants are features like Muzzle, Fixed Width Font, Email Addict, Location in Signature and Random Signature, with a Simon Cowell-like Google commenting, "These decisions were made based based mainly on usage, taking feature polish and your feedback into account".
There was also another reason behind the clear out:  Google says that they've got a fresh bag of new Labs features coming right up, so expect more treats soon.