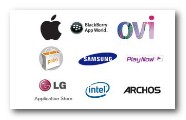 App store analytics firm Distimo has been rummaging through every major app store in town, producing an interesting set of comparison figures.
Want to know which store has the highest percentage of freebies? Read on…
Android: the freeloader's choice
When it comes to stores offering the highest proportion of free apps, Android is miles ahead of the pack, with way over half (57%) of apps being gratis.
Palm came in second place with 32% of all apps being free, followed by Apple (25%), BlackBerry (24%) and Windows (22%) with miserly Nokia in last place, with just 15% of freebies.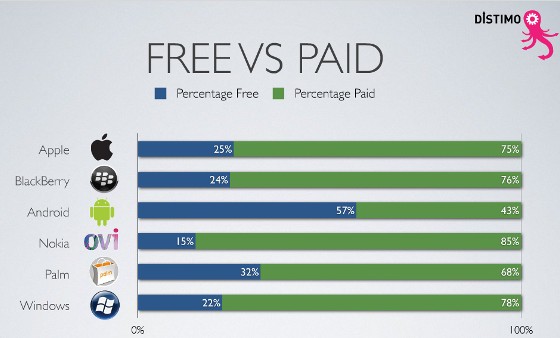 Android may have the highest percentage of free apps, but due to the immense size of Apple's AppStore, that's where you'll find the highest number of apps for nowt.
According to Distimo's figures, Apple's store is now fully stocked with nearly 151,000 apps, miles ahead of the chasing pack of Android (19,897), Nokia (6,118), Blackberry (4,756), Palm (1,452) and Windows wee little offering of just 693 apps.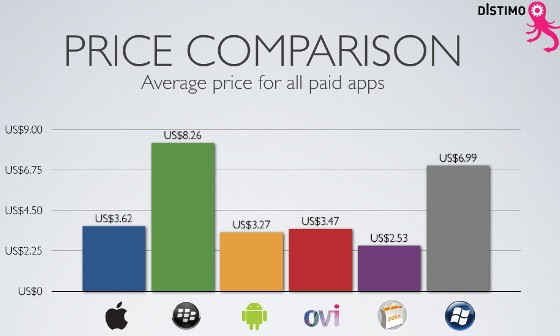 Average app prices
When it comes to the average price for all paid apps, Blackberry's are the priciest at a hefty $8.26, followed by Microsoft at $6.99, Apple at $3.62, Nokia at $3.47 and Android at $3.27 with Palm beng the spendthrift's choice, woth the company registering the lowest average price of just $2.53.
Some of the cross platform pricing of certain apps seems a bit wild too: IM+ for Skype is $4.99 for the iPhone and an outrageous $29.99 on the Blackberry.
Read more here: [Distimo]