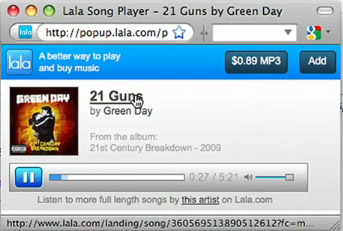 Search engine behemoths Google have elbowed their way into the online music market with the launch of Onebox, their new service for finding music videos, previews and images and buying songs online.
Allied with with music sites Lala and MySpace-owned iLike, the service – which is only available to our States cousins – lets people rummage out hot tunes by typing in song titles, the names of artists or by using snippets of lyrics.
If the songs are found, a pop-up widget offers to stream the entire song, and a MySpace box lets people buy MP3s of the tracks, and view additional related information like music videos and upcoming concerts by the artist.
Posting in the company blog, Mark Mulligan, an analyst at research firm Forrester, reckons that the service may prove an attractive alternative to illegal file-sharing.
Apple can do little about iPod owners downloading from BitTorrent. But Google on the other hand can.

Just imagine if when a consumer searches for a song, alongside all of those Torrent results is a heavily integrated Google music offering.
With Google saying that words "music" and "lyrics" are among the top 10 search terms of all time, it's no surprise to see them trying to capitalise on  the interest – although music sites have a long way to go before they get close to Apple's hefty 70% share of worldwide online music sales.