Google has just added a neat weather layer to Google Maps, letting Brits see just how miserable their summer is – and gaze enviously at sunnier climes around the world.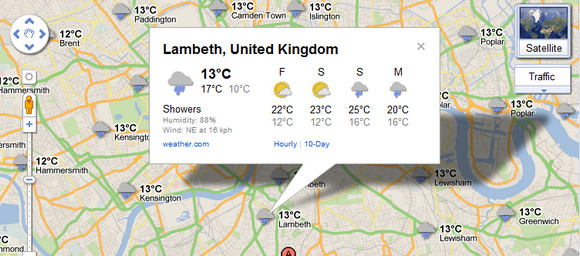 The new weather layer on Google Maps displays current temperatures and weather conditions both locally and around the globe, so you can check out what's happening with the weather anywhere in the world.
Google explains how it works in their blog:
To add the weather layer, hover over the widget in the upper right corner of Google Maps and select the weather layer from the list of options.

When zoomed out, you'll see a map with current weather conditions from weather.com for various locations, with icons to denote sun, clouds, rain and so on. You can also see cloud coverage, thanks to our partners at the U.S. Naval Research Lab.

And, if you look closely, you can also tell if it's day or night around the world by sun and moon icons.
More info
Clicking on the weather icon for a particular city will open a pop up window with detailed data like current humidity and wind conditions, as well as a forecast for the next four days.
It's also possible to change the units of wind speed (Mph/KMph/Mps) and temperature (F/C), and turn on/off  the clouds (when you're zoomed out), via the left-hand panel.