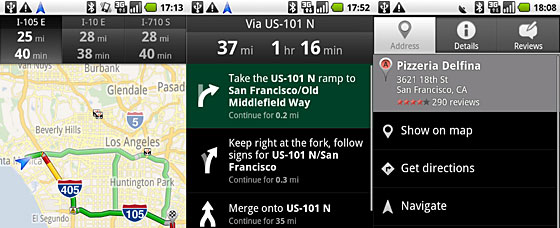 Rather unexpectedly, UK Android owners have been gifted free turn-by-turn navigation with voice directions, courtesy of Google Maps Navigation.
The 4.1.1 Beta app has now been released in the UK,  with owners of the HTC Nexus One optionally able to get to grips with the uber-high tech choice of verbally instructing your Google search bar to "navigate to" your destination.
The app is now available in the Android market but it's only available on Android devices running version 1.6 or above – so you'll have to stick to your paper maps for now, HTC Hero owners.
Here's how Google describe its key features:
Search in plain English
No need to know the address. You can type a business name or even a kind of a business, just like you would on Google.

Watch video
Speak your destination instead of typing (English only): "Navigate to the de Young Museum in San Francisco".

Traffic view
An indicator glows green, yellow, or red based on the current traffic along your route. Touch it to see traffic ahead of you.

Search along route
Search for any kind of business along your route, or turn on popular layers such as gas stations, restaurants, or parking.

Satellite view
View your route overlaid on 3D satellite views with Google's high-resolution aerial imagery.

Street View
Visualize turns with Street View imagery. Navigation automatically switches to Street View as you approach your destination.

Car dock mode
Car dock mode makes it easy to use your device at arm's length (Android 2.0 devices or higher).
[Google Maps]  [Via]