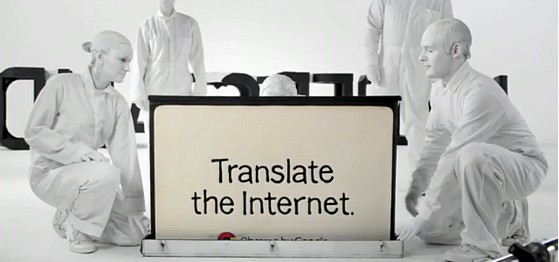 We're growing to really like Google's quirky and engaging promo videos, and two more gems have just been released that are well worth watching.
The first one shows off some of the extensions available for the Chrome browser, while the second one showcases its native translation capabilities.

The short videos were created by agency BBH, and Executive Creative Director, Pelle Sjoenell, explains how they were pitched
We wanted to make cousins or nephews to the 2009 films that we created to drive awareness of the overall benefits of Chrome. For Translation we want people to feel the magic of something being automatically translated right in front of them, just like Chrome does. For Extensions, we wanted to put forward the great benefits of adding Extensions to your Chrome browser. Both are un-tech-like product demos, showing the work and genius going on behind creating something that's essentially very simple to use.
Google Chrome Extensions
Add your favourite Internet tools to Google Chrome by installing extensions from here.
The music is by Fats Waller – (Do You Intend to Put an End To) A Sweet Beginning Like This.
Google Translate
Translate the internet with Chrome by Google.