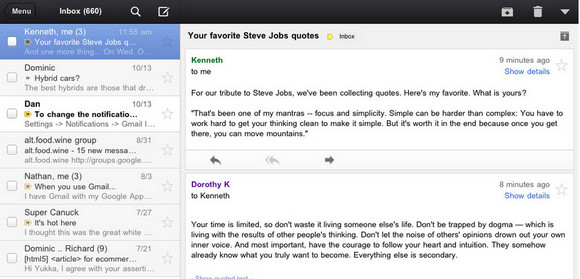 It's been a long time coming, but Google has taken the wraps off their new dedicated Gmail app for the iPhone, iPad and iPod touch.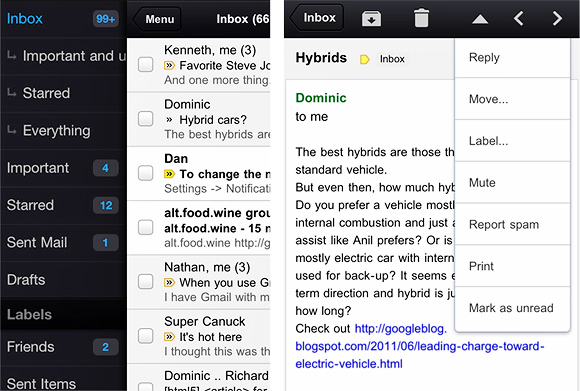 Claimed to combine all the best features from the Gmail mobile web app and iOS into one app, the free offering is "designed to be fast, efficient and take full advantage of the touchscreen and notification capabilities of your device."
Here's Google's full run-down of the new apps's feature list:
Speed
We want to give you the information you need quickly, with minimal effort and distraction. So we've included some time-saving features:
Get alerted to new messages with push notifications and sounds
Find an email in seconds with search across your entire inbox
Autocomplete email addresses from your Gmail contacts or select from your device's address book
Upload photos with a click using the new attachment button in compose view
On iPad, navigate your inbox and read your mail simultaneously with split view

Efficiency

Our inboxes overflow with dozens and even hundreds of messages a day—and this can be even more challenging on a smaller screen. The new Gmail app helps organize your mail so you don't have to go wading through your inbox to find that key message from your boss or loved one:
Focus on your important messages first with Priority Inbox
Quickly scan countless emails on the same subject with threaded conversations
Organize your mail by archiving, labelling, starring, deleting and reporting spam

Touch

We've also optimized the interface so you can perform common actions in Gmail with the lightest touch:
Pull down your inbox to rapidly refresh if you're eager for new mail
Swipe right to view your labels without ever leaving your inbox
Swiftly scroll through dozens of emails just by sliding your finger
Edit: unhappy users abound
According to early reviews and a lot of Twitter raging, it seems that the push notifications feature is broken and the app doesn't support multiple accounts. Oh dear.
Update: it's been pulled out of the store:
Google have now tweeted this:
The iOS app we launched today contained a bug with notifications. We have pulled the app to fix the problem. Sorry we messed up.
http://mashable.com/2011/11/02/google-pulls-gmail-app-for-iphone-ipad-sorry-we-messed-up
[Google blog] – [ iTunes App Store]