Released last November, Google Shopper for Android has already proved a big hit, so the search engine giant is now letting iPhone-toting shopaholics get a slice of the action with their very own iOS version.
An assistant in your pocket
Claimed to "turn your iPhone into a shopping assistant," the app lets users learn more about products, read related reviews,  compare prices at online and local stores and save and share product info.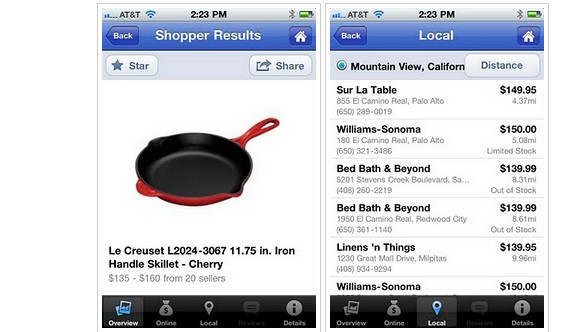 Here's Google to explain all (in case you didn't know  – and we're embarrassed to admit we didn't – a cast-iron skillet is a frying pan):
Let's say you're planning a special meal for Valentine's Day – but you need a cast-iron skillet to get the recipe just right. With Shopper, finding one is easy enough: just type in "cast iron skillet" or say it using Voice Search. Then, from the results, you can choose a specific product that appeals to you. Alternatively, if you were in the store and wanted to see product reviews, you could also scan the barcode of a particular product.

Once you've selected a product result, you can compare prices across web retailers, and even find where you can purchase the item nearby, which is especially useful for those of us who are last-minute shoppers. For some retailers, we also provide inventory information so you can see if a particular store branch has the item in stock, has limited availability, or if the item is out of stock and you should head to a different store.

If you're not sure about making a purchase or are building out a gift list, you can "star" products for future consideration. You can also share items with friends across your social network to let them know about products you love or great deals you've found.
Google Shopper can be downloaded for free from the App Store.
It works with the iPhone 3GS and iPhone 4 with iOS 4.0+, and is only available in English for the US and UK markets.