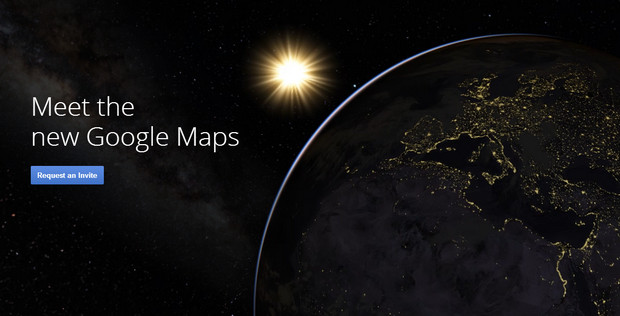 Yesterday's Google I/O 2013 saw a ton of Google geeks doing what comes naturally to them, with some fascinating new technology being introduced – read on for the highlights, and to see the full video.
Google Play Music All Access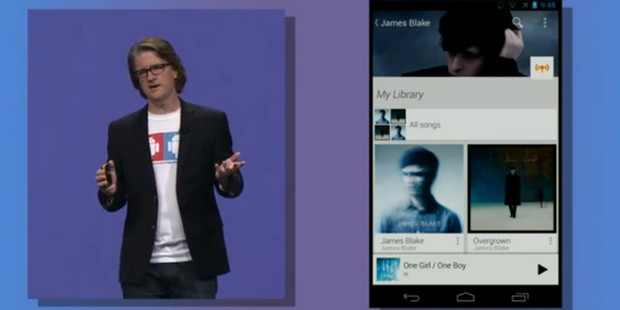 Google looks set to give Spotify a punch on the hooter, with their streaming music service using the company's smartypants search technology to offer you new music and recommendations from Google's expert music team.
If a song comes up you don't like, a single swipe will see it banished from your player forever.
The service combines tracks from your personal library with the millions of tunes available in Google Play Music, and you can also create personalised radio stations from your favourite songs or artists, or explore by genre.
It's competitively priced too, at only $9.99 a month after a 30 day free trial, or a bargain $7.99 a month if you sign up before June 30.
It's "radio without rules," said Google's Chris Yerga.
Google+ Photo Tools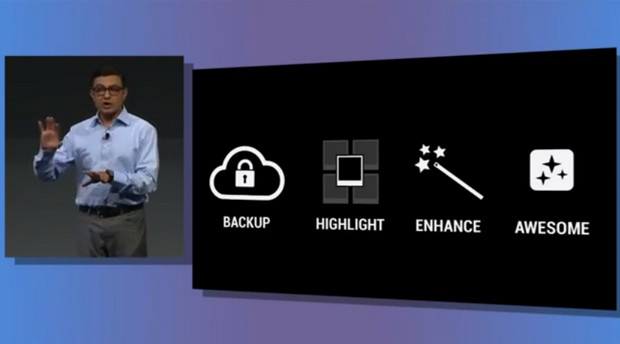 Google has thrown down a veritable shedload of free editing tools, making it easier for folks to snap, edit, share and store their images – and hopefully encourage more people to use their Google + service.
The technology demo'd was impressive: Highlight automatically rummages through your photo collection and lobs out anything that 's blurry or badly exposed. Landmarks can be identified and tagged, as can friends and family.
The 'auto enhance' feature automatically soups up any image, removing noise, correcting dodgy exposures and giving any faces it finds a beauty-spa treatment, with a subtle skin softening feature smoothing out wrinkles and blemishes.
"Auto-awesome" comes close to living up to its name, identifying pictures taken in a series and amalgamating all the best bits to make one uber-shot.
The software also makes it easy to string a photos together to create trendy animated GIFs, and there's support for HDR shots and creating panoramas – plus 15GB of free storage for your masterpieces.
Google Now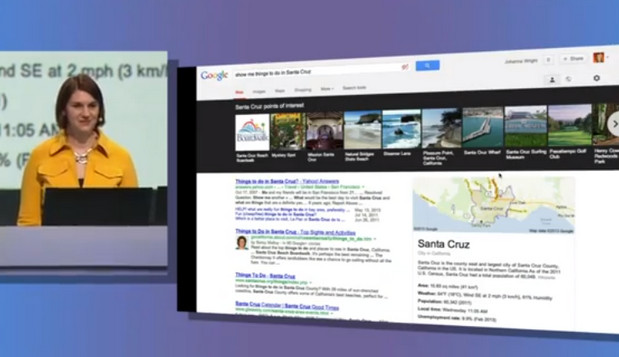 We're already immense fans of Google Now and its almost spooky ability to predict what you're interested in, and the company has put a lot of work in to try and get even better at anticipating what your next question will be.
As shown off in the demo, if you search (by voice or text)  for the population of a country, you'll also get information about how that population ranks with other countries that it's often compared with.
The optional Google Search trial will also bring your email and calendar into search results, and you can compose emails or schedule reminders directly from the search bar.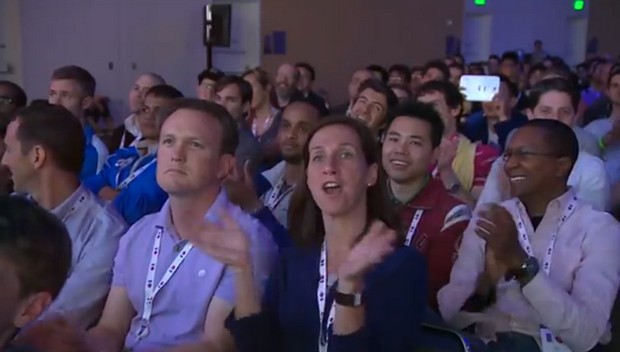 Maps
Rebuilt from "the ground up,"  Google Maps now lets you see sunsets and clouds hovering over the globe in real time, and you can zoom out to see world as a blue marble in the Milky Way.
A tailored map is created for each search, incorporating related locations, reviews, recommendations and local offers, with the technology learning your interests the more you use it.
http://maps.google.com/preview/
Larry Page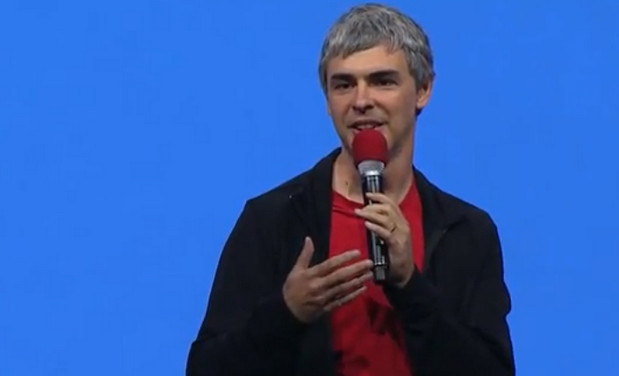 Perhaps the best part of the presentation was Page's appearance at the end of the keynote, where he gave a passionate speech and took part in a lengthy question and answer session.
Battling bravely with vocal chord ailments, this was stirring stuff, with Page speaking eloquently, thoughtfully and candidly.
"Technology should do the hard work so that people can get on with doing the things that make them happiest in life," he said.
See the whole presentation here: