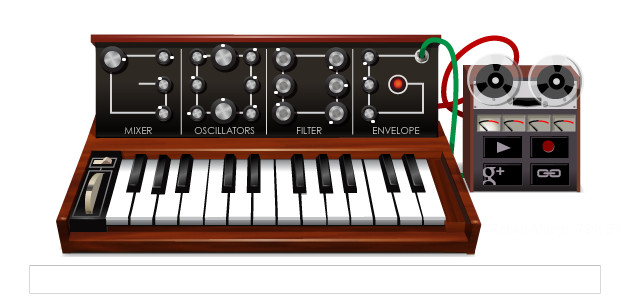 Positively imploring office workers to start wasting time at work is this wonderful interactive doodle by Google, which has been posted up to celebrate Robert "Bob" Moog's 78th birthday, inventor of the legendary Moog synthesizer.
Google's new doodle – found on its home search page – provides a fully working mini version of the synth, and even lets you fiddle about with the sound via the built-in mixer, oscillator, filter and envelope controls.
Even more amazingly, you can even record up to four tracks of your synth-tastic music making, courtesy of a mini-4 track recorder.
We think it's the best Google doodle we've ever seen. Get over to google.com and see what you think!
Read about Robert Moog here and watch prog rocker extraordinaire Keith Emerson get jiggy on his monster Moog in this archive clip below:
Here Emerson talks about his marvellous Moog: