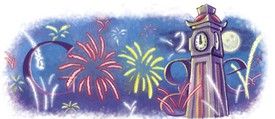 Google have slipped in a nice little treat for the New Year.
Go to Google.com or Google.co.uk today and click "I'm Feeling Lucky" (without entering a search term) and see what happens!
If you're too late, we've snatched a couple of screengrabs to show you what you missed.
These rather messy pics might give you some idea of what it all looked like – imagine a page full of  old-school  Happy New Year 'explosions,' and you'd get the idea.