There's not much we like more than stomping through the British countryside, navigating a path through remote terrain to reach a welcoming pub.
Naturally, an Ordnance Survey map is an essential tool for serious walkers, and the new iPhone OutDoors App should provide a handy alternative to flapping around with paper maps in gale force winds.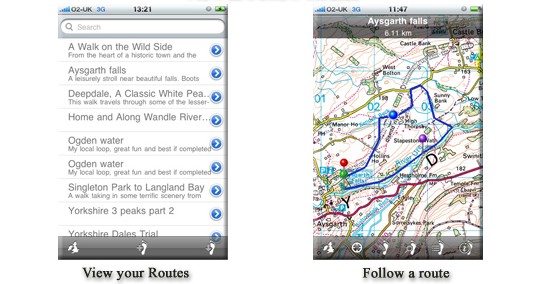 Created by Garmin software developer RoadTour, the app makes use of the iPhone's GPS chip to plot your place and show your trajectory on a 1:50k onscreen map.
Sensibly, the maps are stored locally on the iPhone so you won't have to worry about internet access when you're trudging through bleak areas (although you'd be advised to bring along a spare battery pack along with the Kendal Mint Cake  if you're on a long walk).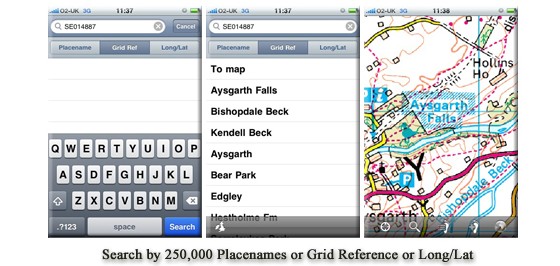 The app offers a 'super fast search' of 250,000 UK place names including 40,000 towns as well as airports, farms, hills, woodlands, commons and other places.
Locations can also be searched by OS Grid Reference or by Longitude and Latitude.
Walking routes can be plotted onscreen, with descriptions or tips added, and these can be uploaded to the web and shared with others.
The UK is split into 13 maps, each available for £25. This means you're looking at a sizeable outlay for full nationwide coverage but then you are getting top notch Ordnance Survey maps – the best maps on the planet as far as we're concerned – which would cost a lot more if bought as individual paper maps.
Here's the available area maps:
1. East Midlands
2. East of England
3. London & South East
4. North East
5. North West
6. South West
7. West Midlands
8. Yorkshire and The Humber
9. Wales
10. Highlands and Islands: Highland, Western Isles, Shetland, Orkney
11. Central and Western Scotland: Strathclyde, Central
12. Southern Scotland: Dumfries and Galloway, Borders, Lothian
13. North East Scotland: Fife, Tayside, Grampian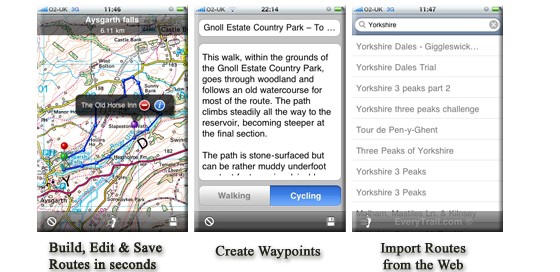 Mark Salter, from Ordnance Survey, was keen to share the love, and positively purred with pleasure when asked about the app:
Britain's countryside is incredibly diverse and offers many possibilities with much variety.

With so many people taking the opportunity to enjoy life outdoors, we're delighted that RoadTour is bringing our highly detailed maps to the iPhone.

This innovation should encourage a whole new group of people, particularly the young, to experience the countryside with confidence, armed with accurate and dependable Ordnance Survey maps.
The OutDoors service should be coming to other platforms soon, and is available now from iTunes.