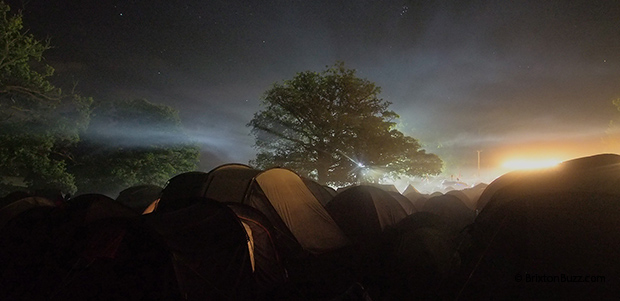 I've been using the Olympus OM-D EM-5 Micro Four Thirds camera for over a year now and remain hugely impressed by its capabilities, but have to say I was somewhat blown away by this scene it captured on Saturday night.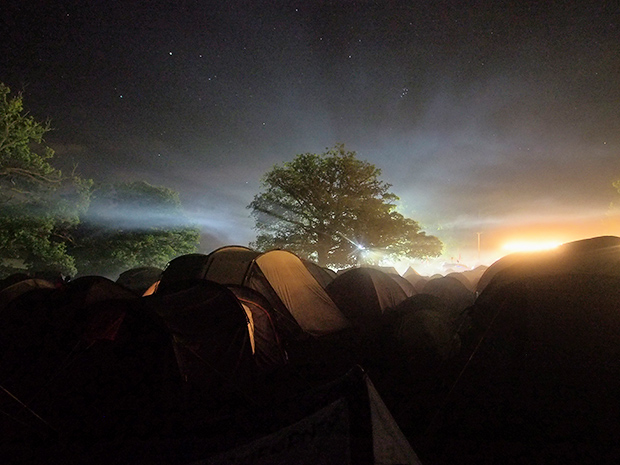 The photo above was taken at 2am on a misty campsite at the Beautiful Days festival in Devon, using the OM-D camera and an Olympus 12mm f2.0 lens.
It was almost pitch black – you can see the stars! – with an exposure of 1/2secs at ISO 3200, f2, JPG format.
The camera was hand held and despite some 'smudging' and acceptable noise from the high ISO, everything looks sharp and – most importantly of all – it captured the scene I saw almost perfectly. In fact, the camera managed to extract more detail from the scene that I could see.
Given the lavish consumption of fine cider that had preceded me taking this photo, credit has to go to the Olympus's stabilisation system here too.
As an aside, my friend had an ambitious bash at recording the same thing with his iPhone 4 and unsurprisingly ended up with a pitch-black photo.
Click here to see a larger version of the photo.