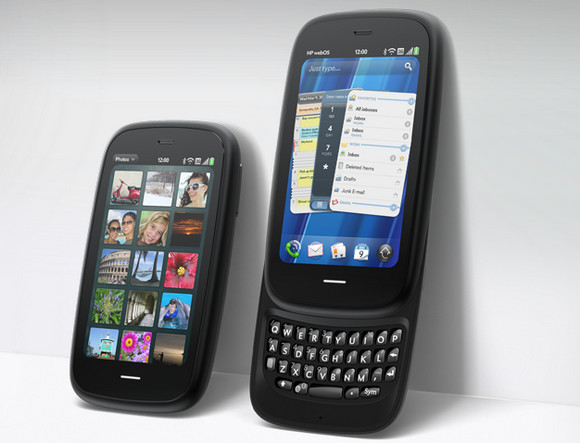 HP – now the proud owners of Palm – have unveiled details of the third iteration of the bijou webOS powered handset, the Pre 3.
The latest version maintains the familiar pebble-like form factor, but ramps up the specs with a 3.6-inch capacitive touchscreen display supporting an improved 480 x 800 pixel resolution and gesture area.
HP say that the QWERTY keyboard has been improved, while inside beats a very nippy 1.4GHz processor – and there's now a front-facing camera for video-calling.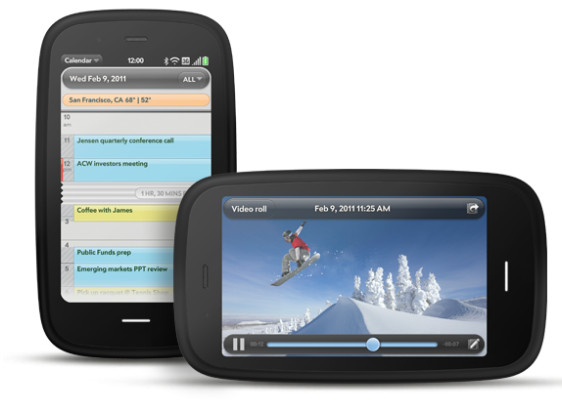 Around the back, there's a 5 megapixel camera with LED flash and HD video recording capabilities, while connectivity options include Wi-Fi b/g/n, Bluetooth 2.1 +ERD.
The handset comes in 8GB or 16GB flavours, and will be made available in HSPA+ and CDMA Rev. A versions with a release scheduled for "this summer."
The new keyboard looks a vast improvement over the original and we've been keen on the Pre since it first launched, but for UK users the same problem rears its head every time: there's barely any apps.
Here's the full press release:
HP Pre3 Introduces the New Look of Business for the 24-hour Life

Bigger and better touchscreen, more processing power and all-new keyboard deliver professional productivity and personal connectivity

For professionals who require powerful mobile productivity with an eye on personal connectivity, HP today announced the versatile HP Pre3 smartphone running HP webOS.

With a large 3.58-inch touchscreen, fast 1.4-GHz processor and a full slide-out keyboard, Pre3 is a multitasking professional workhorse that's perfectly balanced for speed and serious fun.

Pre3 is one of the products HP announced today to introduce a unique experience for customers around connected mobility. It's one of the building blocks in HP's vision to seamlessly connect all your worlds through the power of HP webOS.

"In the suite of webOS products we're introducing today, Pre3 is our premier phone, designed for the speed of business," said Jon Rubinstein, senior vice president and general manager, Palm Global Business Unit, HP. "It enables professionals to accomplish more of their important workday tasks while easily keeping their fingers on the pulse of their personal lives."

Pre3 is the ideal smartphone for multitasking professionals who rely on advanced messaging and voice capabilities to stay connected with all aspects of their busy lives.(1) With a slim design and high-capacity battery,(2) it is comfortable to carry and use all day. The phone's fast performance and large, high-resolution display accentuate the unique webOS experience for both professional and personal use.

The portrait layout enables optimal readability for email, attachments and web, and the new vertical slide-out keyboard – the widest and largest keyboard on any webOS phone to date – helps ensure quick and comfortable error-free typing. It's ideal for heavy email and messaging needs, web browsing, enjoying multimedia and for staying in touch with business and social circles.(1,3)

For professionals who demand more than productivity

With an array of features that are critical for professionals balancing work and personal use – including the speed of 3G and Wi-Fi,(1) a comfortable keyboard for typing and a large vivid touchscreen – Pre3 offers the best of both worlds on the powerful HP webOS platform:

Business-class email – Pre3 offers business-class email and encrypted data storage to protect critical information and supports industry-standard VPN to connect to corporate networks. You can read and write email with ease, view your email accounts together or easily toggle between them.(1,3)

More ways to connect – With the HP Synergy feature, you just have to sign in to your Facebook®, Google, Microsoft® Exchange, LinkedIn and Yahoo!® accounts. Your information – email, contacts, calendars – automatically populates your phone and stays updated so it's always at your fingertips.(3) Integrated messaging conveniently combines all your text messages, picture messages and IM conversations with one person into a single view, and you can connect through SMS, MMS, Google Talk, AIM and Yahoo! Messenger.

The whole web – Pre3's high-performance web browser offers support for HTML5 features and Adobe® Flash® Player 10.1 beta for access to rich, Flash-based web content on the phone's big, vivid display.(1)

Video calling – Pre3 has a front-facing camera, a great speaker and noise cancellation for a state-of-the-art video calling experience.(1,4)
True Multitasking – webOS works the way you do. Begin an email, pause to answer a call, check your calendar, send a text, then switch back to your email without closing anything. Pre3 lets you easily manage multiple open applications and notifications using natural touch gestures. Whether you're planning a meeting or a night on the town, webOS keeps related items together so managing multiple tasks is easy.(5)

Just Type – Start an email, create a message, update your status and search your favorite websites – all before you've even opened an app. Because webOS works the way you do, whenever you want to do something on your Pre3 – whether it's emailing, texting, searching or almost anything – just type.

Quickoffice Connect Mobile Suite – HP is working with Quickoffice to include the Quickoffice Connect Mobile Suite, which offers support for viewing Microsoft Office Word and Excel and provides integration with a variety of services, including Google Docs and Box.net.
Touch-to-share – With HP's new and exclusive touch-to-share feature, you'll be able to simply tap your Pre3 phone to the new HP TouchPad to share web addresses between devices.(6)
GPS – Get where you need to be with built-in GPS on Pre3. Apps such as Fandango and OpenTable work with GPS to pinpoint your exact location, get directions, find nearby places of interest and provide turn-by-turn directions.(7)

Apps to keep you connected – The webOS App Catalog features thousands of apps for fast and easy access to all the things you need to keep your day moving, such as weather, news, hotel and restaurant reviews and reservations, flight info and games.(8) Mobile social networking apps such as Facebook and Twitter allow you to stay connected throughout your hectic day and update your status and upload pictures in real time.

HP mobile hotspot – Pre3 also supports the HP mobile hotspot, enabling your phone to act as a mobile Wi-Fi router so you can share wireless internet connectivity with up to five Wi-Fi-enabled devices, including the new HP TouchPad, as well as notebooks, gaming devices and portable media players.(9)

Pre3 is compatible out of the box with HP Touchstone (sold separately). The webOS Exhibition feature lets you run apps designed specifically for HP Touchstone – showing you anything from today's agenda to a slideshow of your photos – turning charge time into useful time.(10)

Pre3 is one of three webOS products announced today (see separate announcements for HP Veer and HP TouchPad). Each product plays a distinct role in the growing webOS family, designed to meet the varying needs of customers in a rapidly evolving mobile landscape.

Availability

The HP Pre3 smartphone is scheduled to be available in the summer. Exact pricing and availability will be announced at a later date.

HP Pre3 features and specs
HP webOS
High-speed connectivity(1)
Qualcomm Snapdragon MSM8x55 1.4-GHz processor
3.58-inch multitouch screen with a vibrant, 24-bit color, 480 x 800 resolution display
Gesture area, which enables simple, intuitive gestures for navigation
Redesigned vertical slide-out QWERTY keyboard with backlight
8 or 16 gigabytes (GB) of internal storage(11)
High-performance browser with full access to the web, including support for Adobe Flash Player 10.1 beta for access to rich, Flash-based web content(1)
Wireless connectivity:
Wi-Fi 802.11b/g/n with WPA, WPA2, WEP, 802.1X authentication(1)
Integrated GPS (and A-GPS)(7)
Bluetooth® wireless technology 2.1 + EDR with A2DP stereo Bluetooth support
Wi-Fi router functionality for up to five devices using HP mobile hotspot(9)
Multimedia options, including music, photos, video recording and playback, a 5-megapixel autofocus camera with LED flash and a 3.5 mm stereo headset jack
Rear-facing autofocus camera with flash, HD camcorder (capable up to 720p video recording)
Front-facing VGA fixed-focus camera for live video calling(4)
Email, including EAS (for access to corporate Microsoft Exchange servers) and personal email support (Google Gmail push, Yahoo!, POP3, IMAP)(3)
Robust messaging support (combining IM, SMS and MMS capabilities)(12)
Proximity sensor, light sensor, accelerometer and compass
Removable, rechargeable 1,230 mAh battery
USB mass storage mode to transfer media and other files quickly between desktop and device
Ringer switch, which easily silences the ringer with one touch
Compatible with HP Touchstone (sold separately)
Dimensions: 111 mm x 64 mm x 16 mm (4.37 inches x 2.52 inches x .63 inches)
Weight: 156 grams (5.5 ounces)
More information about HP Pre3 is available at www.palm.com/Pre3.