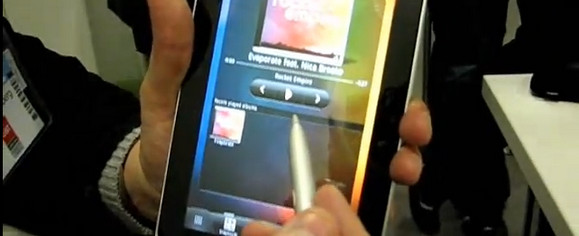 The HTC Flyer is one of the few Android  tablets that has really caught our eye, offering an unusual and innovative stylus/finger powered interface which lets users draw directly onscreen.
The stylus input option garnered positive feedback at its MWC 2011 launch, and a new video shows how the 7″ tablet copes with users placing their hands on the screen as they might do when sketching.
Palm rejection
The tablet users a technology known as vectoring to implement "Palm-rejection" which lets the device  intelligently ignore the touch of a hand leaning on the screen while a pen or stylus is being used.
Shown off in the video below (and apparently likely to be improved further before its scheduled launch next month) you can see the software doing a pretty good job of things.
We're mightily stoked about this tablet, although the pricing mentioned in the video still seems on the crazily high side compared to the iPad 2, with the Wi-Fi only version retailing for €499 (£386) and the 3G version €669 (£575).
Drag the Wi-Fi version to £300 and we might start to feel our wallets shaking all over.