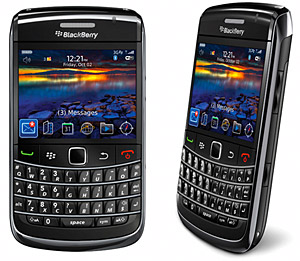 T-Mobile has unlocked the holding pen and unleashed the shiny Blackberry Bold 9700, which is now roaming free amongst the bits and bytes of their online store.
Casting off its original Onyx moniker,  the Bold 9700 boasts a larger 480 x 360 pixel display (up from the 480 x 320 of its 9000 predecessor), and measures up at a pocket-pleasing 109m x 60mm x 14.1mm.
An attractive looking number stamped all over with Blackberry's distinctive brand looks, the 9700 has a full QWERTY keyboard with its removable 1500 mAhr battery promising around 6 hours of talk time and 17 days of standby time in 3G mode.
There's a new optical track pad for navigating around the screen with gusto, plus a 3.2 Mega pixel camera with flash and video recording, GPS, 3.5mm headphone socket and up to 32GB of expandable memory.

Connectivity comes in the shape of  HSDPA, quad-band EDGE/GPRS/GSM, Bluetooth and Wi-Fi internet, with Blackberry's bespoke Media Sync software letting users sync with their iTunes account.
Handset pricing starts from free on an 18-month, £31.50/month contract, with the Blackberry Email Booster service and unlimited internet usage slapping you down an extra £5 per month.
Blackberry Bold 9700 features
* Sleek design measuring 109 mm x 60 mm x 14.1 mm and weighing only 122 grams
* Sharp and dazzling 2.44″ light-sensing display (480 x 360 resolution at 245 ppi)
* Highly tactile full-QWERTY keyboard – with finely sculpted keys and chrome frets – for fast, accurate typing
* Innovative touch-sensitive trackpad that allows intuitive and responsive navigation
* Built-in WiFi (802.11 b/g)
* 3.2 MP camera with variable zoom, autofocus, flash and video recording
* BlackBerry OS 5.0, offering users email management and calendar enhancements as well as a better browsing experience with faster JavaScript and CSS processing
* Built-in GPS for maps and other location-based applications, as well as photo geotagging
* Media player for videos, pictures and music (music play now extended up to 38 hours), plus support for BlackBerry Desktop Manager for both PCs and Macs, and BlackBerry® Media Sync for easily syncing iTunes® and Windows Media® Player music with the smartphone
* 3.5 mm stereo headset jack, dedicated volume controls, Lock and Mute keys seamlessly integrated across the top of the handset
* microSD/SDHD memory card slot that supports up to 16 GB cards today and is expected to support 32 GB cards when available; a 2GB card is included
* 256 MB of Flash memory
* Premium and easy-to-access phone features, background noise suppression technology and high quality speakerphone
* Bluetooth (2.1) with support for Secure Simple Pairing, hands-free headsets, stereo headsets, car kits and other Bluetooth peripherals
* Support for BlackBerry services and BlackBerry® Enterprise Server deployments
* Available in two versions to support various carrier 3G network frequency combinations:
*UMTS/HSDPA 2100/1900/850/800 MHz and quad-band EDGE/GPRS/GSM – UMTS/HSDPA 2100/1700/900 MHz and quad-band EDGE/GPRS/GSM
* Removable, rechargeable 1500 mAhr battery that provides approximately 6 hours of talk time and 17 days of standby time in 3G mode.