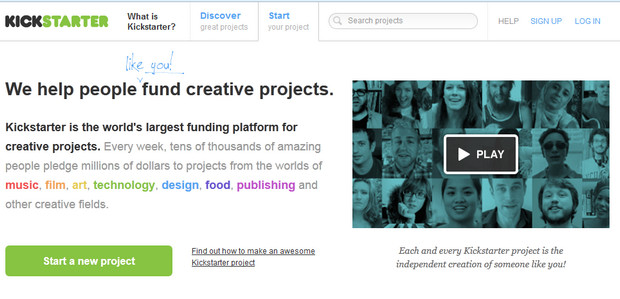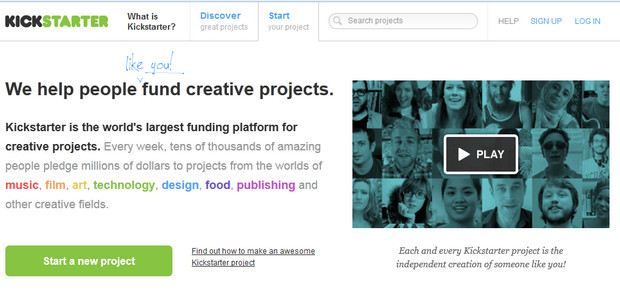 The hugely popular crowdfunding platform Kickstarter has announced that UK users will be able to launch their projects on the service starting from October 31st, 2012.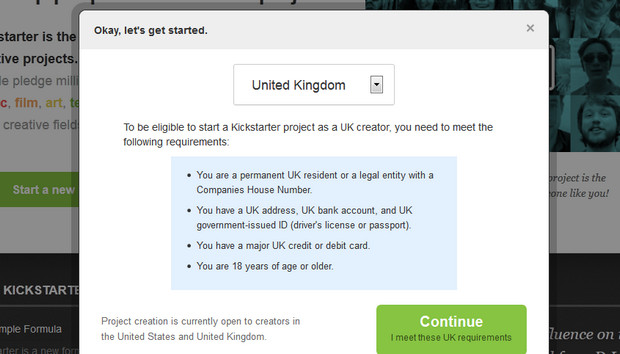 Beginning today, Brits can start building their projects by visiting the Kickstarter website, clicking on the "Start a new project" button and selecting the UK as their country.
Although users can busy themselves preparing projects as from now, projects won't be able to go live until the site's full launch on October 31st.
There won't be a dedicated UK site though, with non UK-based projects being listed alongside all the other Kickstarter projects.
Read on for Kickstarter's description of how things will work:
So UK creators can start building their Kickstarter projects as early as today, and launch them beginning October 31?

Yes. We thought the three-week gap would give everyone plenty of time to build and tweak their projects before launching. Beginning October 31, they can launch and share their projects with the world.

Will there be a UK-specific Kickstarter site?

Nope. UK-based projects will be listed alongside all the other Kickstarter projects.

Can people outside the UK pledge to UK projects?

Yes! Just like every other project on Kickstarter, backers can pledge to UK-based projects from all around the world.

What currency will UK projects be listed in?

All UK projects will be listed in pounds sterling. If you are pledging from outside the UK, you will see the approximate conversion rate to US dollars before you complete your pledge.

Will backing UK projects be similar to backing US projects?

The mechanics of Kickstarter (all-or-nothing funding, rewards, etc.) are identical for US and UK projects. When pledging, however, backers of UK projects will enter their payment information directly on Kickstarter rather than through Amazon Payments. All pledges will be processed securely through a third-party payments processor.

Are the fees for UK and US projects the same?

Like the US, Kickstarter will charge a 5% fee to successfully funded projects and no fee to unsuccessfully funded projects in the UK.

Payment processing fees for UK projects are similar to those for US projects. For UK projects, the processing fees are:

Pledges less than £10 are charged 5% + £0.05
Pledges of £10 or greater are charged 3% + £0.20

Any other changes to go along with this announcement?

Today we also launched a streamlined international shipping option for both US and UK projects.

Creators have been asking backers to add international shipping costs to their pledges for years, and it wasn't uncommon for backers to miss the instructions. Today's update makes it clearer when the creator has requested that international backers add an additional amount to their pledges.

We've also made it easier for creators to limit rewards to domestic backers only, as international shipping can be a difficult part of the process.

We felt it was important to get this change out with this international expansion. This feature is available to both UK and US projects that launch starting today.