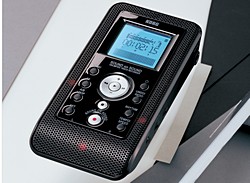 Musicians on the move have long been partial to lobbing portable recording equipment into the Transit van, ready to lay down any ideas when inspiration strikes.
Back in the day, Tascam Portastudios were all the rage, offering 4 track recording and sound 'bouncing' down to a lowly cassette tape, but digital technology has seen the size of recorders shrink, and sound quality improve immeasurably.
Korg's new Sound On Sound Unlimited Track Recorder is the latest pocket-sized marvel to tempt a muso's wallet, offering a carnival of on-board rhythms, more effects than Dr Who, an infinite number of overdubs, plus unlimited undo/redo.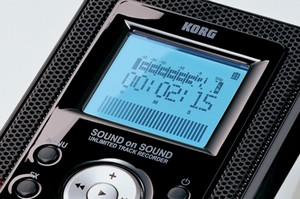 The battery powered bijou recorder comes with a built-in speaker and an internal high-quality stereo mic, and packs a ton of advanced recording features.
These include unlimited undo/redo, loop recording, and the cunning Sound Stretch, which lets users adjust the playback speed between 25 and 150 percent of the original recording without altering pitch.
More tracks than Clapham Junction
Unlike the humble Portastudio of yore, the Korg lets you overdub as many times as you like, without having to worry about running out of tracks, with each overdub saved individually.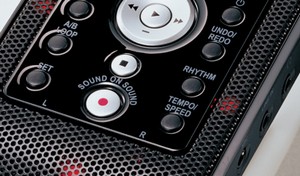 Here's how Korg explain the process:
SOUND on SOUND saves each of your overdubs separately. These track files are saved as individual WAV files. This allows each overdub to be loaded directly into nearly any DAW software program as an individual track. The individual files are BWF (Broadcast Wave File) compliant, meaning they contain timing information. So if you had overdubbed a track in the middle of the song, it will automatically align correctly in a BWF-supported DAW. You can also use the Finalize operation to automatically time-align each overdub track. SOUND on SOUND can record at either 44.1 kHz/16-bit recordings are saved onto a microSD card.
ECHO-ECHo-ECho-Echo-echo
If you want effects, this little fella's got 'em, with Korg's proprietary REMS technology serving up no less than 100 on-board effects, and there's 50 preset rhythm patterns onboard, covering a broad variety of styles.
High-performance guitar, bass, and chromatic tuners are built in to ward off unexpected 'jazz' tunings, backed by a dedicated guitar input plus mic and line-in ports.
A pair of  AA batteries will keep the Korg rolling for ten hours, and you can squeeze in up to 26 track hours on a 16GB MicroSDHC card.
The recorder should be available in the UK in March for, priced around £230.
More info: http://www.korg.com