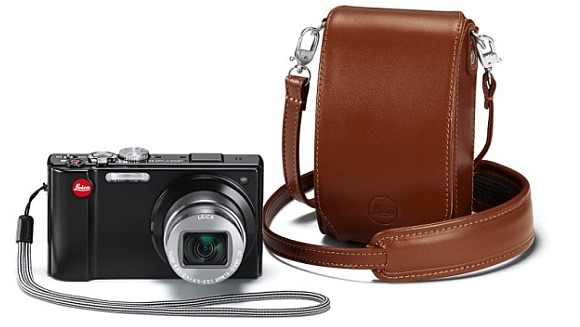 Offered with an optional leather case that tells the world, "I am considerably richer than you, " Leica has announced its V-Lux 30 superzoom – basically a rebadged Panasonic Lumix DMC-TZ20/ZS10 superzoom.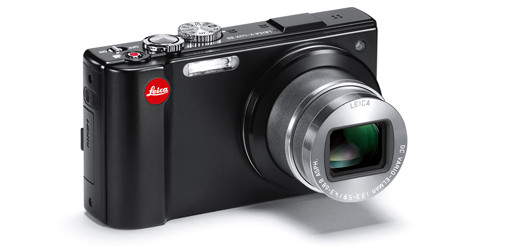 The compact sports that all-important Leica red dot logo, and comes with  a 16x image-stabilised wideangle zoom lens, covering a very handy 24-384mm equivalent.
There's also 1080i Full HD movie recording in the AVCHD format onboard, speedy 10fps continuous shooting at full 14.1MP resolution and a rather natty built-in GPS feature.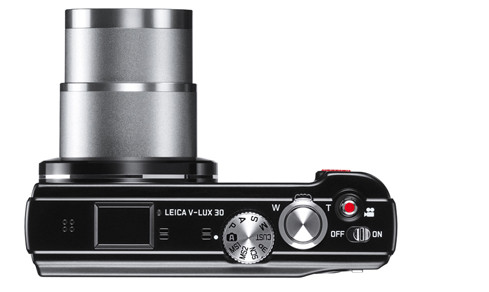 Around the back can be seen a 3″  touch-sensitive screen, and the camera comes with a neat 3D mode, which lets users create a stereo image from two photographs for viewing on suitable 3D-compatible screens, if that's your thang.
Available for a thumping price tag of £550, the V-Lux 30 goes some way to justifying its premium price tag by bundling Adobe Photoshop Elements 9 and Adobe Premiere Elements 9 software.
Here's the press release:
Solms, Germany (May 26, 2011) – Leica Camera AG presents a new digital compact camera featuring a 15.1 megapixel sensor (14.1 MP effective) – the Leica V-Lux 30. In comparison to its forerunner model, the new camera has a Leica DC Vario-Elmar lens with an extended range of focal lengths and a new LCD touch screen display that guarantees fast and simple handling. Together with its numerous automatic features and manual setting options, this makes the Leica V-Lux 30 a compact and universal camera for the whole family. Additionally, its integrated GPS function and video recording in 1080i-AVCHD Full HD make it the ideal companion for all life's moments from the family vacation to the backyard barbeque.

The Leica DC Vario-Elmar 4.3 – 68.8 mm f/3.3-5.9 ASPH. 16x zoom lens has an extended range of focal lengths equivalent to 24 to 384 mm in 35-mm format. Thanks to this high performance lens, the Leica V-Lux 30 delivers outstanding image quality and covers a wide range of photographic opportunities, ranging from wide-angle and macro shots to telephoto shots of distant subjects.

The newly developed 1/2.33″ CMOS sensor of the Leica V-Lux 30 guarantees outstanding image quality and allows photographers to capture image sequences with the camera's fast, continuous shooting mode. The Leica V-Lux 30 enables consecutive burst shooting at a rate of ten frames per second at a full resolution of 14.1 MP, or 60 frames per second with reduced resolution in a choice of individual aspect ratios. This allows users to reliably capture fast moving subjects – for example when shooting sports or wildlife. Its brand new 3D mode lets users take fascinating, creative images. In this mode, the camera combines two suitable shots from a sequence in a "stereo image pair" and saves them as a 3D image in MPO format.

An outstanding feature, the Leica V-Lux 30's video recording mode offers performance comparable to that of digital camcorders. Particularly, the video mode records in efficient, 1080i-AVCHD-Full-HD format with the entire 16x zoom range available during video recording and an integrated stereo microphone with an electronic wind noise filter guarantees a crystal-clear soundtrack.

As with the complete Leica portfolio, the V-Lux 30 is characterized by timelessly elegant styling and extremely easy handling. With the new 3″ LCD touch screen, many camera features can now be controlled simply by touching the screen with a fingertip. This generously dimensioned screen has a diagonal of approximately three inches and displays images in outstanding brilliance with a resolution of 460,000 pixels. This provides users with an ideal tool for reliable and precise assessment of images both during composition and after capture.

Thanks to the integrated GPS function, the camera records the geographical coordinates of the location and the local time for every shot and saves them in the Exif data of the image files. When travelling, the V-Lux 30 can also display the sightseeing highlights of the immediate neighborhood (1,000,000 so-called "Points of Interest"). Images posted on social networks, image portals and map sites such as Google Maps or Google Earth reveal exactly when and where they were shot.*

The Leica V-Lux 30 will be available from Leica dealers beginning June 2011. The camera is supplied with an extensive software package comprising Adobe® Photoshop® Elements 9 for still image processing and Adobe® Premiere® Elements 9, especially designed for video processing. There is also a choice of two different camera cases: The strong and resilient leather case and the soft leather case.
And, just to tie it all in with our opening comment, here's an amusing clip for you.