We know they make sense for some people and we love the futuristic idea of them, but whenever we see someone strutting around town with a bit of blinking gadgetry wedged in their air we can't help thinking they look a bit of an arse.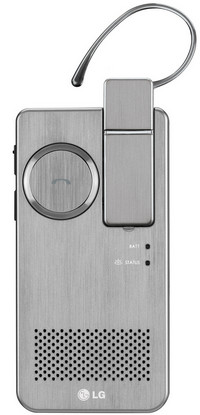 Nonchalantly shrugging our reservations aside, LG clearly think there's still a big market for Bluetooth headsets, and have introduced their new LG HBM-810, which comes with a solar-powered charging cradle.
A swan's neck on a box
The shiny metal headset looks a bit like a USB stick that's sprouted a swan's neck, and comes with dual microphones, noise reduction and echo cancellation.
LG say that the battery will let you keep on chatting for up to five hours as you shuffle through the busy city streets (with 150 hours standby), and the silver ear-thing features multipoint connectivity so it can connect up to two devices at the same time for that authentic Nathan Barley look.
The headset can scooped up at T-Mobile stores for $99.99 and also comes with voice dialing, caller ID announce, and A2DP support.
[Via]