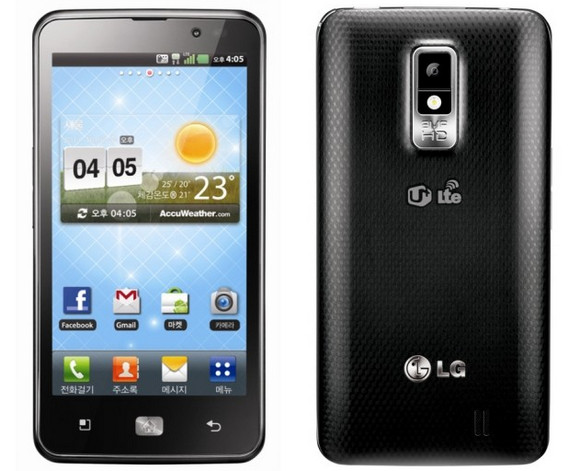 Boldly launching just hours before the mobile phone world undergoes its collective gusset moistening techgasm over the new iPhone, LG have released the rather stunning Optimus LTE.
Apple-besting display
At  326ppi the high definition AH-IPS screen matches Apple's magnificent Retina Display,  but boosts the resolution up to a mighty 1280 x 720 pixels in a bigger swathe of 4.5″ glass.
There's a 1.5GHz dual-core CPU inside, backed by an eight megapixel camera, 1GB of RAM, and 4GB of internal memory expandable by another 32GB via a Micro SD slot.
Beefy battery
A chunky 1830mAh battery should see the phone doing its stuff over a long day, while the 132.9 x 67.9 x 10.4 mm dimensions means it won't be too much of a pocket ripper.
The only fly in the ointment for all this Android 2.3 Gingerbread-powered loveliness is the fact that so far there's only been a Korean release planned. Bah!
Admire, if you will, the press release below, which also shares a listing of all those impressive specs:
LG LAUNCHES OPTIMUS LTE, FIRST 4G HD SMARTPHONE IN KOREAN MARKET

SEOUL, Oct. 4, 2011 – LG Electronics (LG) today announced the Korean market
launch of LG Optimus LTE, the first mobile device in the country to offer 4G
connectivity with the highest resolution IPS display available on a smartphone.

Developed in close collaboration with sister company LG Display, Optimus LTE
features a striking 4.5–inch "True HD IPS" display which offers advanced resolution,
brightness and clarity and shows colors in their most natural tones, as they were meant
to be seen.

Optimus LTE also delivers enhanced performance with 1.5 GHz dual-core processor,
running on the Android 2.3 Gingerbread OS platform.

With a large 1,830 mAh battery, Optimus LTE is perfectly suited for multimedia usage. In addition, the device enables content sharing seamlessly through HDMI (High Definition Multimedia Interface) and DLNA (Digital Living Network Alliance).

"LG Optimus LTE is the first smartphone in Korea to offer vivid and clear HD content
on a 4G network," said Dr. Jong-seok Park, President and CEO of LG Electronics
Mobile Communications Company.

"Our goal is to be a leading player in LTE devices by continuously offering best-in-class products based on our LTE patents and knowhow."

According to a recent report by Jefferies & Company, LG was listed as the global leader
in LTE patents with ownership of 23 percent of approximately 1,400 LTE patents filed
worldwide, with a financial value of almost USD 8 billion. LG demonstrated the
world's first LTE technology in 2007 and developed the world's first LTE modem
chipset in 2008. LG introduced the world's fastest LTE technology in 2010 and

LG-SU640 / LU6200 SPECIFICATIONS

Network LTE & HSPA+(SKT) / Rev.A (LGU+)
Chipset 1.5GHz Dual-Core
Memory
20GB (Internal 4GB, Micro SD 16GB),
1GB RAM
Micro SD (up to 32GB)
Display
4.5 inches True HD IPS Display (1280 x 720)
Camera (Main / Front) 8.0 MP AF with LED flash / 1.3 MP
SW Spec (OS) Android 2.3 Gingerbread

Features

Battery 1830 mAh
Connectivity HDMI, DLNA, Wi-Fi Direct
Multimedia TDMB
Size Width x Height x Thickness 132.9 x 67.9 x 10.4 mm
Weight 135g
Colour Black
[LG Press]