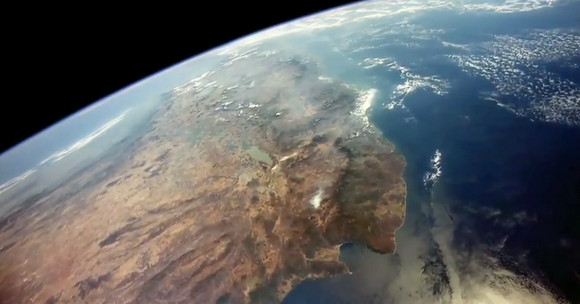 This is great news space fans: starting from Spring 2012, it'll be possible to view live, streaming HD video of Earth beamed down from the International Space Station.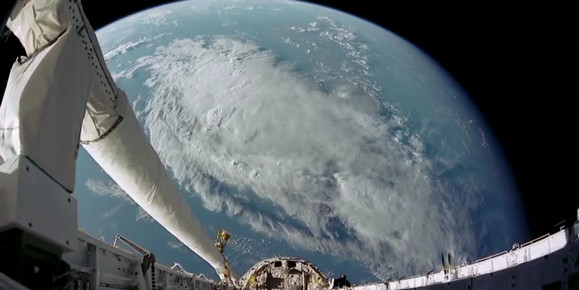 Billed as a 'Joint Canadian, Russian and UK Space Venture to Install World's First Ever High Definition Streaming Video Cameras on the ISS,' the project will see UrtheCast supplying real-time video data and imagery of Earth.
Brit cameras
The system employs two HD cameras built by the UK's Rutherford Appleton Labs, shooting both video and still images that will be beamed down to Planet Earth 24 hours a day, seven days a week.
The still shots will cover an area of around 30 miles with a resolution of 18-feet per pixel, while the movie stream will be able to zoom in much, much closer, offering a three feet per-pixel stream of 3.25fps video.
At that resolution you'll be able to easily pick out man made objects and even groups of people .
Users will be able to interact with the images by zooming in and out, 'virtually steering' the camera from side to side and rewinding and fast forwarding through the feed – as well as tagging locations and events.
Scroll on down for the promo video and press release:
UrtheCast Announces New Space Venture

Joint Canadian, Russian and UK Space Venture to Install World's First Ever High Definition Streaming Video Cameras on the International Space Station

TORONTO, June 23, 2011 /CNW/ – UrtheCast is building, launching, and operating the world's first and only high definition streaming video cameras being installed on the International Space Station (ISS).

UrtheCast will supply video data and imagery of Earth collected by two HD cameras on the Russian module of the Space Station. This data and imagery will be down-linked to ground stations around the planet and then displayed in real time on the Internet and distributed directly to UrtheCast's exclusive partners and customers.

The UrtheCast web platform will allow Users to constantly track the location of the Space Station, anticipating when it will pass over a particular geographic location. Users will be able to search for videos of a particular location, type, or theme and will have the ability to interact with the HD video feed from the UrtheCast servers. They will be able to zoom in and out, virtually steer the camera from side to side, rewind, and fast forward as they check out areas and things of interest on Earth. UK based Rutherford Appleton Labs is building two high definition cameras. A medium resolution camera will provide a three colour image with a swath of 45 kilometers and a resolution of 5.5 meters. The high-resolution camera will offer a video image with a frame rate of 3.25 frames per second with a resolution that is comparable to much of Google Earth. This will allow Users to see man-made objects and groups of people.

As a result of all this unique functionality, the UrtheCast web platform will spark a great deal of awareness, creativity, and unique user events from around the world. The UrtheCast website will feel like a blend of Google Earth with the video playback and search functionality of YouTube. The UrtheCast web platform will combine a consumer centric website, mobile application for smart phones, and an open Application Program Interface (API). The API enables third party developers to create their own applications and upload them to the UrtheCast web platform.

"Users will be able to view Earth from space. It will operate seamlessly with social media sites like Facebook and Twitter," explains Scott Larson, President of UrtheCast. ISS is a low orbit, human-inhabited satellite. The station travels at 26,000 km/h, orbiting Earth sixteen times per day, at an altitude of approximately 350 km. The ISS is a collaborative project between the Russian, Canadian European, Japanese, and US space agencies. UrtheCast has signed an exclusive agreement with RSC Energia, who maintains operational control of the Russian segment on the ISS. RSC Energia will take UrtheCast's cameras, install them on the outside of the ISS, and provide the necessary maintenance and transfer of the data. The cameras are being built by UK based Rutherford Appleton Laboratories (RAL), who is a world leader in building cameras for aerospace and satellite purposes.

"Being part of a project that not only taps into the recent renewed interest in space, but also provides a connection between people and the rest of the world is what is most intriguing about this project," Richard Holdaway Director, RAL Space.

UrtheCast will officially launch this project in Calgary on June 28th at 12:00pm. Dr. Dave Williams, one of NASA's most accomplished astronauts, will be speaking at the launch at the Calgary Chamber of Commerce.

"The UrtheCast camera will support the ISS and continue to inspire youth to pursue advanced studies in space sciences and spark interest in science, technology, engineering and the environment," says Dr.Williams.

Dr. Williams blasted into space aboard the Space Shuttle Columbia, and again on Shuttle Endeavour where he walked out into the great beyond. He has set records in space walking and has logged more than 687 hours in space. He will be speaking about space flight, space exploration, space science and technology, environmental stewardship and educational awareness as it relates to seeing the Earth from Space. "This unprecedented UrtheCast initiative is helping position Canada as a leading space-faring nation and driving science and innovation while actively inspiring young people across our country to take their place as members of Canada's next space generation," stated Dr. Williams.