London's skyline is changing at a remarkable rate, with several large and unusually shaped skyscrapers currently under construction.
Many of the towers have already acquired not-always flattering nicknames, like the Cheesegrater, the Walkie Talkie and The Shard to go along with the already completed – and absolutely wonderful – Gherkin.

The Shard
Due for completion next year and already the tallest building in the UK is the Shard London Bridge, a super pointy tower set to tower 310 m (1,017 ft) over London Bridge and boast 72 floors.
The Walkie Talkie
In the City of London, work has just started on the rather less pleasant bulk of the Walkie Talkie building, a 509ft tall tower with 37 storeys, topped off with an interesting sounding 'public sky garden.'
Many have complained that its chunky profile seems out of scale, inappropriately sited away from the core of city skyscrapers and totally overbearing for its low-rise surroundings.
We tend to agree – in fact, we rather like this comparison with the Bugs Bunny monster that was posted up on the urban75 discussion thread:
The Cheeesgrater
Far more attractive is the Cheesegrater building at 122 Leadenhall in the City of London.
When finished, it will stand 225 metres/52 storeys tall, with its distinctive wedge design resulting in a relatively modest 500,000 sq ft of office space being made available.
The building's unusual tapering shape was created to reduce the tower's impact on protected views of St. Paul's cathedral, and was crucial for winning planning permission.
The Pinnacle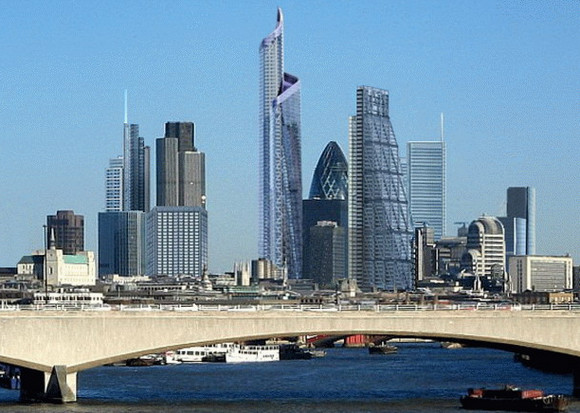 Perhaps the most exciting of them all is the The Pinnacle (aka The Bishopsgate Tower and The Helter-Skelter) which is scheduled for completion in 2012.
The 288 m (945 ft), 63-storey skyscraper will stand in the centre of London's main financial district, the City of London, and will become the tallest building in the City of London and the second tallest building in both the United Kingdom and the European Union – with the 310 m (1,020 ft) Shard London Bridge retaining the number one slot.